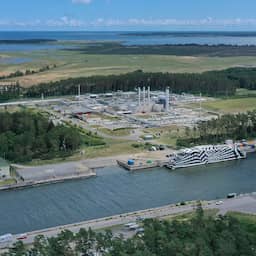 The Swedish National Seismic Service measured powerful submarine explosions through monitoring stations in Sweden and Denmark on Monday in the same areas where the Nord Stream 1 and 2 gas pipelines are leaking, the director of the seismological service told Swedish national broadcaster SVT.
According to director Björn Lund of the seismic service, there can be no doubt that these are explosions.
The leaks led to speculation that Nord Stream 1 and 2, which transport gas from Russia to Germany via the Baltic Sea, were sabotaged. The pipes are currently not in use, but they do contain gas.
The explosions and leaks were found in both pipelines near the Danish island of Bornholm in the Baltic Sea.
The German Geological Survey also measured two tremors on Bornholm on Monday. The first tremor was observed around 2 a.m. local time. A second tremor followed around 5 p.m. The agency declined to confirm that the vibrations were caused by explosions.
It is very unusual for several leaks to be found in the pipeline within a short period of time. Both the Nord Stream 1 and Nord Stream 2 consist of two pipelines. Three out of four now have a leak.
Both pipelines have become part of the conflict between Russia and the West. The two sides have been battling each other since the Russians invaded Ukraine in February this year.
Until recently, Russia was an important supplier of gas for Europe. Since the invasion of Ukraine, however, the Russians have turned off the gas tap more and more. In fact, nothing has been delivered at all via the Nord Stream 1 for a few weeks now.
According to the Russians, this is because Western sanctions make it impossible to properly maintain the pipeline. The west thinks that the Kremlin is using gas throttling as a means of blackmail.
The Nord Stream 2 is a new pipeline, which has never been commissioned.
---