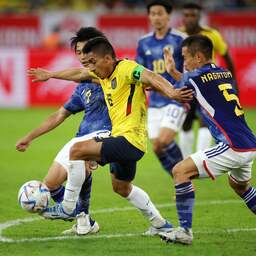 Ecuador failed to win the last game in the run-up to the World Cup on Tuesday. The South Americans, who are placed in the group of the Dutch national team in Qatar, did not go further than 0-0 in a practice match against Japan.
Seven minutes before the end, Enner Valencia had the perfect opportunity to shoot Ecuador to victory from the spot. The 32-year-old striker from Fenerbahçe missed, as a result of which the game in Düsseldorf, Germany, went goalless in the history books.
The match against Japan, which also participates in the World Cup in Qatar, was the last in Ecuador's short practice campaign. The team of national coach Gustavo Alfaro also drew 0-0 against Saudi Arabia on Friday.
The Dutch national team and Ecuador will meet each other on November 25 in the second round of group A. The other countries in this group, Senegal and Qatar, will also play friendly matches against Iran and Chile on Tuesday.
The World Cup in Qatar starts on November 20 with a match between Ecuador and the host country. A day later, the Orange will take on Senegal.
---