Horror fans have been looking forward to it for a long time, and this week it's finally here: Thursday comes out smile (2022) at the cinema. The terrifying American horror film has been doing well at film festivals lately and Paramount has released a new trailer just before the Dutch release.
dark grin
The film revolves around Dr. Rose Cotter, a doctor and therapist whose life changes forever after a bizarre and traumatic incident with a patient. From the incident, she is plagued by ominous events that she cannot explain and which mainly take the form of a gruesome smile. Fear of death begins to take over her life, and Rose does everything she can to escape this unwanted new reality. Watch the new Smile trailer below:
The lead roles are played by Sosie Bacon, Jessie T. Usher (The Boys (2019– )), Kyle Gallner, Rob Morgan and Kal Penn. The film was directed by Parker Finn. Finn also wrote the screenplay for Smile himself, partly based on his own short film Laura Hasn't Slept.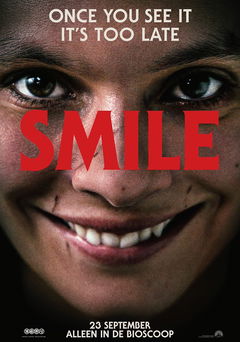 6.6 Watch on Netflix • After witnessing a bizarre and traumatic incident involving a patient, Dr. Rose Cotter (Sosie Bacon) is faced with an ominous event that she cannot explain.
Smile is from next Thursday, September 29, which can be seen in cinemas all over the Netherlands. On this page you can find where and when the film is showing in your area. The full cinema agenda can be found here.
Image: Poster 'Smile' via TMDb
Text: Paramount Pictures
---