Spotify is an indispensable part of everyday life for many people. That became clear earlier this year, when the streaming service was temporarily down and panic arose worldwide, and then a lot of memes. However, the service is not yet available for very long. In the fictional series The Playlist (2022) we dive into the past and the origin of Spotify. The official trailer is now available.
world changers
The series revolves around young Swedish tech entrepreneur Daniel Ek and his key partners. They are all incredibly passionate and have a mission: to change the music industry, and with it the whole world. They want to do this by offering free and legal online music worldwide in a period when it was still very normal to download music illegally. A wild idea, according to many, but the team perseveres.
Watch the trailer for The Playlist below:
The lead roles in the series will be played by Edvin Endre (Vikings (2013–2020)), Gizem Erdogan (Karlek & Anarkic (2020– )), Christian Hillborg (The Last Kingdom (2015–2022)), Ulf Stenberg and Joel Lutzow. Netflix introduced the cast to us last year with the video below:
book adaptation
The fictional series is inspired by the book Spotify Inifrån (English: Spotify Untold) by Sven Carlsson and Jonas Leijonhufvud, two journalists from the Swedish financial newspaper Dagens Industri. The screenplay of The Playlist was written by Christian Spurrier and the series is directed by Per-Olav Sørensen.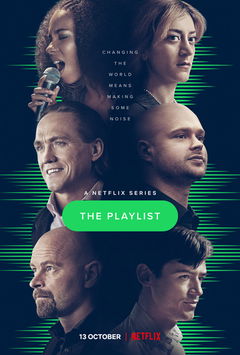 Watch on Netflix • During the heyday of piracy, established leaders resisted the tumultuous music industry. The series revolves around young Swedish tech entrepreneur Daniel Ek and his partners who revolutionized an entire industry by offering free and legal streamed music worldwide.
The Playlist is out October 13 to be seen on Netflix. Are you curious about which films and series will be released on the streaming service in the near future? Here you will find our complete overview.
Image: Still 'The Playlist' via TMDb
Text: Netflix
---