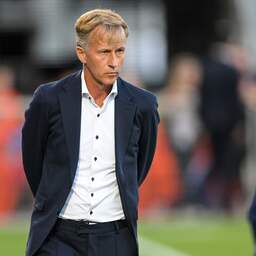 National coach Andries Jonker has selected 26 players for the exhibition matches of the Orange Women against Zambia and Norway in October. Dominique Janssen, Stefanie van der Gragt, Lieke Martens and Shanice van de Sanden are missing from the selection "after good consultation".
"We look at what is best for each individual," Jonker said. "And after good consultation with players and their clubs, we have decided not to call up these four this time." Merel van Dongen, Jill Baijings and goalkeeper Jacintha Weimar will return to the selection.
The Orange Women will play the first friendly against Zambia on Thursday, October 6. Five days later, the meeting with Norway is scheduled. "These two matches are ideal for us to work on our playing style and this is also the phase in which players get opportunities," says Jonker.
The practice matches are all about preparation for the 2023 World Cup that will take place in Australia and New Zealand next summer. The draw for the World Cup is on Saturday 22 October.
The full selection:
Jill Baijings (Bayer 04 Leverkusen), Lineth Beerensteyn (Juventus), Esmee Brugts (PSV), Kerstin Casparij (Manchester City), Caitlin Dijkstra (FC Twente), Daphne van Domselaar (FC Twente), Merel van Dongen (Atlético Madrid), Daniëlle van de Donk (Olympique Lyon), Kayleigh van Dooren (FC Twente), Lisa Doorn (Ajax), Damaris Egurrola (Olympique Lyon), Kika van Es (PSV), Jackie Groenen (Paris Saint-Germain), Renate Jansen (FC Twente), Fenna Kalma (FC Twente), Lize Kop (Ajax), Romée Leuchter (Ajax), Barbara Lorsheyd (ADO The Hague), Vivianne Miedema (Arsenal), Aniek Nouwen (Chelsea), Marisa Olislagers (FC Twente), Victoria Pelova (Ajax), Jill Roord (VFL Wolfsburg), Sherida Spitse (Ajax), Jacintha Weimar (Feyenoord), Lynn Wilms (VFL Wolfsburg)
This message is being completed.
---