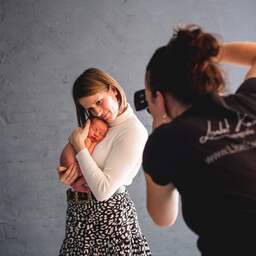 Lookalikes, snake milkers, mattress testers and Netflix subtitles. In this section we interview the people with a non-standard answer to the standard question: What do you actually do? This time Liselot Kamphuis (36), newborn photographer.
Who: Liselot Kamphuis What: Newborn Photographer Important quality for a newborn photographer: Have a lot of patience.
When people think of baby photos, people quickly think of photos of babies in a huge calyx, between heads of lettuce or dressed as an angel. This style of newborn photography was made known by Australian photographer Anne Geddes.
Today the choice is much wider. Your offspring can dress up for the photo or pose in a more natural way, and everything in between.
The Dutch newborn photographer Liselot Kamphuis calls her own photography style calm, natural and warm. "Once the parents wanted their child to wear a pink tutu for the photo. I refused," she says.
From horses to people
Photography started at Kamphuis, trained as a microbiological analyst, as a hobby. At first, Kamphuis mainly photographed horses, but soon she also got people in her sights. Since then, photography is no longer a hobby for her.
"Some people think that photographing babies isn't serious work, but I now earn my entire income from it."
Liselot Kamphuis
Where it used to be a welcome change from her other work, she can now call it her profession. Kamphuis: "Some people think that photographing babies is not serious work, but I now earn my entire income with it."
Every day she does one or sometimes two photo shoots with a newborn child or of a family with older children. She also photographs weddings.
The baby is the boss
A newborn photo shoot stands or falls with enough time and good preparation. "The baby is the boss," says Kamphuis. "It cannot be directed. When the baby is hungry, it has to eat. When it starts to cry, it has to be comforted."
Kamphuis sends the baby's parents a preparation guide with explanations and tips in advance. She also checks when the baby's regular days (days when the baby cries more and wants more food) will fall. For example, the chance of a regular day during the shoot is virtually zero. "This makes the parents much more relaxed and the baby will not pick up any anxiety from them."
The babies also all do during the shoot, of course. But Kamphuis is prepared for that. "All props where the baby is naked can be washed."
Cuddle and feed in between
Usually a photo shoot starts at 10am. Kamphuis has already prepared the various settings. For example, a bean bag on which the baby can lie and baskets with a soft fur inside.
Upon arrival, the baby is undressed and given a bottle. "Then they often fall asleep with a full tummy," says Kamphuis. She then photographs the sleeping baby in the different settings. Finally, Kamphuis takes pictures of the baby with both parents separately and one of the whole family together.
In between, there is feeding and cuddling. When the customers have gone home, Kamphuis starts the post-processing of the photos.
To be a newborn photographer, according to Kamphuis, you need patience in addition to a good eye and talent for photography. You also have to be able to handle a bit of chaos. "And of course you also have to like babies a bit and be good with children," she says.
We do not have permission for the necessary cookies. Please accept the cookies to view this content.
---