This year marks the end of the legendary Halloween horror franchise after 45 years. In Halloween Ends (2022) Laurie Strode takes on the evil Michael Myers for the very last time, and only one of them will survive. The new trailer for the horror movie is out now.
The lead role of Strode is, as always, played by Jamie Lee Curtis. She appeared in the first film as one of the first final girls in the horror genre, embarking on an impressive career. When David Gordon Green revived the Halloween franchise in 2018, she reprized that role. Last year she played in Halloween Kills (2021) and this fall she's back in perhaps the most exciting film yet.
Watch the new Halloween Ends trailer below:
Four years later
The new film is set four years after the events of Halloween Kills. Laurie now lives with her granddaughter Allyson and is working on her memoir. Michael Myers hasn't been seen for years, and Laurie has finally been able to put her fears and anger aside for a bit. But after an innocent boy's murder, unrest ensues in the small town, followed by a torrent of violence and terror. Laurie is forced to face evil once and for all.
In addition to Curtis, Andi Matichak, Corey Cunningham, Will Patton, Kyle Richard and James Jude Courtney also star in the new film from director David Gordon Green. Production was in the hands of Malek Akkad, Jason Blum and Bill Block.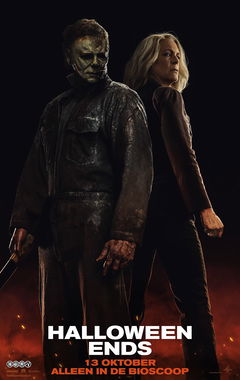 Four years after the events of Halloween Kills, which came out last year, Laurie lives with her granddaughter Allyson (Andi Matichak) and Michael Myers has not been heard from.
Halloween Ends is now thursday 13 october to see in the cinema. The full cinema agenda can be found here.
Image: Still 'Halloween Ends' via TMDb
Text: Universal Pictures
---