At the beginning of this month Athens (2022) premiered at the prestigious Venice Film Festival, and since last Friday the thriller drama can also be seen on Netflix. The film was critically acclaimed at the Viennale, and now looks set to become a hit on the streaming platform as well.
Athena is currently on number 3 of the best viewed films in the Netherlands, even though the film is only available for four days. The action thriller is the third feature film by director Romain Gavras and revolves around the tragic and inexplicable death of a boy and the gigantic outburst of violence that follows. Watch the trailer below:
In the film, we initially follow Abdel, a soldier who is given permission to temporarily leave the army after his brother died in an unclear incident with the police. At home, Abdel finds his family in a miserable state. One of his brothers is out for revenge, the other is trying to calm things down a bit. But the tension does not stay indoors, and soon the entire community becomes involved in an uncontrolled street war.
The production of Athena was in the hands of Elias Belkeddar and Ladj Ly, and the lead roles in the action thriller are played by Dali Benssalah (No Time to Die (2021)), Sami Slimane and Anthony Bajon.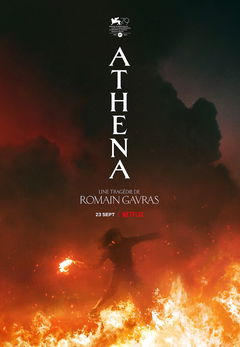 6.9 Watch on Netflix • Hours after the tragic and unexplained death of their youngest brother, the lives of three brothers are turned upside down.
Athena is now available on Netflix. Another festival entry from the streaming service, Andrew Dominik's Blonde about Marilyn Monroe, will be out there tomorrow. You can find the full range of Netflix here.
Image: Still 'Athena' via Netflix
---