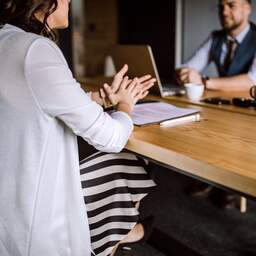 A long-term illness does not always have a negative effect on your career. Those who are ill often get to know themselves well. When you return to the labor market, these new insights can also be of great value for your work.
"I am more critical, more assertive and know much better what kind of work or employer suits me," says Nathalie Herder (29). She is convinced that she is a better employee now than before her illness. In 2021, Herder was diagnosed with breast cancer. She turned out to be a carrier of the BRCA1 gene and therefore has a hereditary predisposition to breast and ovarian cancer.
"I've learned to accept the diagnosis and to be resilient to disappointing test results and other disappointments," she says. When a doctor presented her with a treatment plan or choice, she would read scientific studies and look for a form of healing that would best suit her. "The entire disease process has given me more self-confidence and ensured that I am stronger in my shoes. Because I noticed that it is very important to keep control of your own life."
After her studies Policy, Organization and Communication, Herder worked as a communication advisor at a medium-sized municipality. But she was out of place there. "The people were conservative, the company culture was old-fashioned. My ideas didn't fit the policy, but I had a one-year contract and thought: it's better for my CV if I finish the year."
Disease process can bring valuable self-insight
Her contract was terminated after a year. "The HR advisor told me that the communication profession might not suit me. I let the words come to me with resignation. I will not let that happen to me anymore. Because of my illness I know very well what I can and cannot do. I dare stand up for myself and know that I want to work for an employer with similar standards and values."
Company doctor at Defense Youri Versloot hears in his consulting room that more employees are getting new insights during an illness. "People who have been ill for a long time and go back to work often have done self-reflection, with or without a coach."
The vast majority of the sick employees that Versloot supervises have a burnout. He himself has had one in the past. "So I know from my own experience how much self-insight such a disease process gives." According to Versloot, better self-insight leads to more reliable employees. "They often indicate their limits better and are often more motivated in the tasks they want to take on."
Companies see long-term illness as a risk
But there is a great deal of tension between the (previously) sick employee and the employer. The majority of employers are not eager for people who have been ill in the past, according to various studies. Recent research by Tilburg University shows that employers and HR advisors advise employees with mental complaints not to mention their illness on their CV.
Versloot agrees: "It is better to discuss the illness with your manager once you are at work and have shown what you are capable of, than at an earlier moment with your future employer during a job interview. motivated, an employee who has been ill for a long time is seen as a risk by many companies."
Versloot would rather advise otherwise. "Unfortunately, it still happens too often that a letter is put aside if someone also applies who has not been ill. If during the interview you are asked about the gap in your resume, I advise you to be honest. You are not legally required to report your medical history. You can also say something like: I spent that time working on myself."
"I can indeed get sick again, but that can happen to anyone."
Nathalie Herder was diagnosed with breast cancer in 2021
Mention cancer on your resume
Shepherd disagrees with this advice. "I find it shocking and inhumane that employers do not give people who have been ill a fair chance. As if you can no longer function after that. Yes, my life is different, but I also have more life experience than a peer who has not been ill I can indeed get sick again, but that can happen to anyone. An employer must dare to take that risk."
Herder is transparent about her recovery process and shares it on LinkedIn and Instagram. on a message in which she works hard to put cancer on your resume, she received both positive and negative reactions.
Reports about the possible negative consequences of her decisions no longer make her insecure, she says. "I'm looking forward to looking for an employer that suits me after my last round of chemotherapy. Where I can be honest about who I am and what I've been through. I really hope for more humanity when applying."
We do not have permission for the necessary cookies. Please accept the cookies to view this content.
---