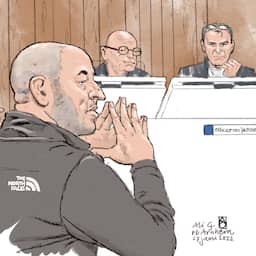 The court in Arnhem sentenced main suspect Ali G. on Tuesday to a prison term of nineteen years and ten months. G. was sentenced for his involvement in the extortion case involving fruit company De Groot in Hedel, Gelderland. In 2019, employees there found 400 kilos of cocaine among a batch of bananas. That party would belong to G., who after the discovery became the mastermind behind extortions and attacks aimed at employees of the fruit company.
The sentence is less than the 26 years and seven months demanded by the Public Prosecution Service.
When fruit company employees found the drugs in 2019, they called the police. He confiscated the cocaine, after which G. started extorting. 1.5 million euros in 'damage' was demanded, but the company did not pay it.
After that, G. deployed various people to cause explosions at the homes of employees of the fruit company. Two waves of attacks took place: in the fall of 2020 and in the spring of 2021. In total, this concerns fifteen attacks in 2020 and 2021. G. was the instigator in all fifteen attacks and house shelling, the court ruled. He speaks of an "unprecedented terror campaign".
The attacks that took place were often very violent. An example is an attack in which a hand grenade was thrown against the house of a son of a director of the fruit company. Several houses were also shelled and two employees were injured by arson.
All together, dozens of attacks took place at the homes of (former) employees of De Groot. Homes were shot at with firearms or pelted with fireworks. The company also received several threatening text messages. In total, 2.5 million euros in bitcoin was demanded.
G. continued organizing attacks in prison
G. was in several prisons in recent years, after he was arrested for his involvement in the extortion. According to the Justice Department, he continued to organize attacks there. This was possible because a mistake by an employee of the Public Prosecution Service gave him a list of names of employees of De Groot. That list had been added to his preliminary criminal file.
Finally, G. was transferred to the extra secure facility (EBI) in Vught. He is still there now.
G. is by no means the only convict
Besides G., many more suspects have been arrested in recent years. In total there are 28 arrests. G.'s half-brother Yassine A. (21) has meanwhile been sentenced to ten years in prison for his role as 'adjutant' and 'conduit' for G.
In February, seven people – the youngest of whom is not yet eighteen years old – were sentenced to prison terms of up to eight years for the attacks in 2020. They are called the Molenwijkgroep, named after a neighborhood in Amsterdam.
Eight executors were recently tried for setting fires and shooting at homes in 2021. Five of the eight suspects were sentenced on Tuesday to prison terms ranging from 16 months to 9 years. Three suspects have been acquitted.
---