After his dismissal from Derby County, Phillip Cocu was deliberately without a club for almost two years. After all those years in the "fast train of football", the former PSV success coach needed a breather. He was also not waiting for the empty stadiums in the corona time. On Tuesday he experienced his first working day at Vitesse. "I have encountered myself in difficult times."
It is 10.40 am on a rainy Tuesday morning at Papendal when Cocu walks with black and white shoes on a path to the training field. In his dark blue training jacket and ditto training pants he still seems just as fit as the players who walk around him, he looks that trained.
The mind has been worked up for a while. While two cameras are panting down his neck, he says good morning twice to the dozens of people present. He gets a hand from one supporter. "Welcome back!", says the former Vitesse player.
With his appointment at Vitesse, 51-year-old Cocu is starting a new start as a trainer. The former international was ascribed a great future as a trainer: at his first club PSV he became national champion three times, he took the KNVB Cup and he won the Johan Cruijff Scale twice.
After his departure in 2018, things quickly went downhill for the trainer Cocu. He was sacked from Fenerbahce after four months because of the disappointing results. He got off to a good start to the season at his next club Derby County, but things quickly deteriorated after that, resulting in a dismissal in November 2020.
22 months without a club later, Cocu is on the training field of the number fourteen of the Eredivisie. And so he no longer works with Steven Bergwijn, Roberto Soldado or Wayne Rooney, but with Melle Meulensteen, Thomas Buitink and Nikolai Baden Frederiksen.
Phillip Cocu experienced his first working day at Vitesse on Tuesday.
Phillip Cocu experienced his first working day at Vitesse on Tuesday.
Photo: Pro Shots
'A conscious choice to do nothing for a while'
Two hours later, Cocu says in the press room that as a former international he does not feel too big for anything. And not at all for the club he played for from 1990 to 1995. "I don't value big names that much. I come here to lead the club according to my vision. What's in a name, huh? I stay close to myself."
Cocu has stayed even closer to himself over the past 22 months. His departure from England's second-divisionist Derby County caused the "thinker" to reconsider, after his second foreign adventure also led to his resignation. Cocu deliberately distanced himself from the coaching profession.
"It coincided with the corona time with the empty stadiums and all the restrictions. Then I consciously chose not to do anything for a while. I wanted to wait until we had put that time behind us a bit."
"And in football you are on an express train. That's great, but you also go 100 percent in it. By taking a little distance from it, you broaden your world and you get other insights." Cocu visited clubs, watched matches and met people to broaden his horizons.
Between the lines, Cocu said the foreign years had cut him off. "It's great when you win everything and stand with the scale in your hands at the end of the year, but you find yourself in difficult times. That was very instructive. But I did not become a different trainer."
Phillip Cocu teaches on the training field.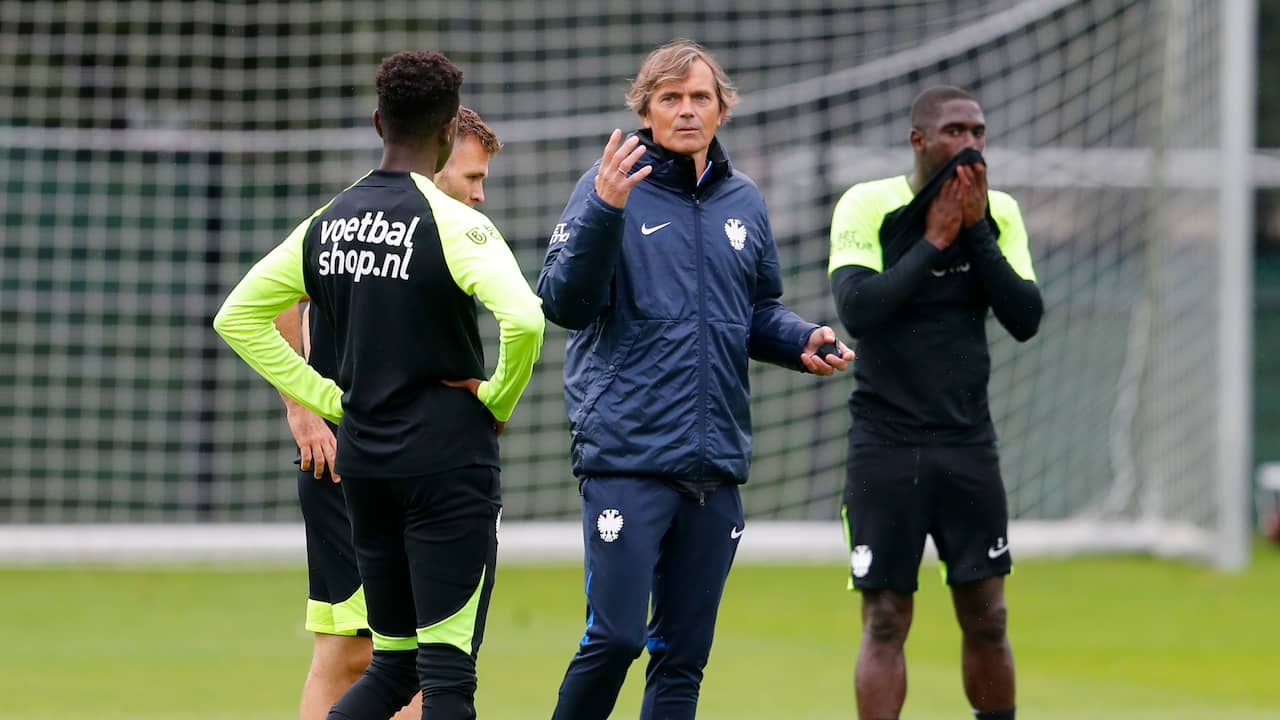 Phillip Cocu teaches on the training field.
Photo: Pro Shots
'Glad that I canceled a lot for Vitesse'
In January, Cocu first informed his management that he was open to a new club. It eventually took nine months until he joined Vitesse. The long search for the right club put Cocu's patience to the test.
"The feeling kept getting stronger. In the beginning you give signals that you want to get started. That actually gets worse. Until the moment you can no longer sit still in your chair. I got that feeling a bit."
Cocu was not desperate. "Very diverse things have happened, quite a lot of them from abroad. But you always have to watch out that you are going to do something because you want to get started. Now I am glad that I canceled quite a lot of things to participate in the to succeed."
Phillip Cocu spoke to the press after his first training session.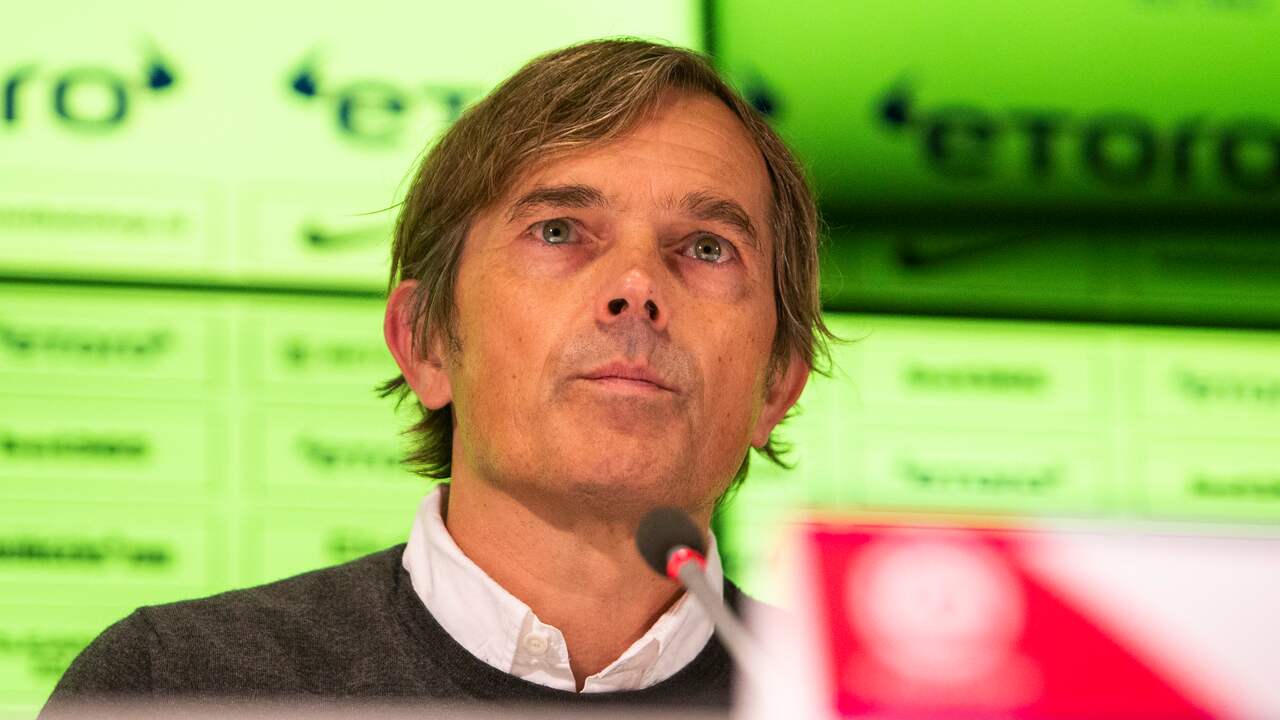 Phillip Cocu spoke to the press after his first training session.
Photo: Pro Shots
Cocu not afraid of damage risk
The choice for Vitesse is partly inspired by his playing career. The midfielder settled in Arnhem as a twenty-year-old talent and played for Vitesse at a time when Nieuw-Monnikenhuize was the base and the GelreDome Stadium did not even exist yet.
In the capital of Gelderland, Cocu laid the foundation for a great career: he earned a transfer to PSV in 1995, with which he celebrated great success. He then played for FC Barcelona and PSV again. He made 101 appearances in the Dutch national team.
"I have special feelings for this club. The European matches against Real Madrid and KV Mechelen are still with me. We played structurally for fourth and fifth place every year and therefore participated in European football. , ed.) difficult now, but sometimes you have to take a step back to build it up again."
Cocu is looking forward to taking Vitesse, which was recently acquired by the American investment company Common Group, to his will. He is not afraid of a risk of damage. "If you're afraid of starting something, or think what will happen if it doesn't work out, you should have done something else."
After a long breather, he came to the conclusion that he wanted to continue as a trainer. On Tuesday morning he sat in the car with a "wonderful feeling" on his way to his first working day at Vitesse. "The best moment was to get on the field and start training."
---