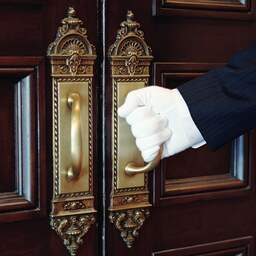 Sep 27, 2022 at 10:13 PMUpdate: 18 minutes ago
By coincidence, after more than twenty years, a family of nobility has been recognized again. It concerns the 77-year-old AOW pensioner from Apeldoorn Frans Lauta van Aysma. He turns out to be related to a colonel who fought in the Eighty Years' War.
By our news editors
Never before has someone been made noble who has not had rich or powerful ancestors for more than a century and lives around the poverty line himself.
The fact that Van Aysma can now call himself a squire is thanks to André Buwalda. He owns a church with bed and breakfast in the Frisian village of Schettens. An old helmet on the wall in his church caught his eye.
An investigation by the Military Museum in Soesterberg revealed that the helmet belonged to Colonel Schelte Hotzes van Aysma (1578-1637). The senior soldier also had his grave in the church.
A search via Facebook led to the Apeldoorn Frans Lauta van Aysma. The DNA test yielded results. The colonel's bones and skull were examined and a 100 percent DNA match was found with Van Aysma's cheek mucus.
In his flat apartment in Apeldoorn, Van Aysma shows RTL News his diploma. "Look, Prince Willem-Alexander. You have to say King now," he says, proudly showing the book made of velvet with parchment. "I will remain French, but I would like to have the fine print of Jonkheer on my identity card."
In the past century, almost no one was admitted to the Dutch nobility. Most members joined around 1814, when the new King William I wanted to bind the elite. Van Aysma counters NRC admit that it is not completely spotless. As a child from a poor family, he used to steal wood and potatoes. Still, he always felt something of blue blood. "There's something special about me, though."
Image: Getty Images
Read more about:
RemarkableInland
---