Thing is embroiled in a battle between Wednesday and her parents. He tries to find a middle ground and remain loyal to everyone, but then Wednesday catches him spying on her and Wednesday wouldn't be Wednesday if it weren't for punishment. The new images are now available.
Thing hides under the sheets, but not well enough, because Wednesday catches on and threatens to break his fingers and lock him in her drawer for the entire semester. After these threats, Thing can't help but promise to stop spying and not pass any information about the teen on to her parents.
Production manager Miles Millar describes the series as an eight-hour Tim Burton film and that's no small thing, because Burton is known for his fascinating films and has several Oscar nominations to his name.
Wednesday is played by Jenna Ortega, known for X (2022), you (2018– ) and Yes Day (2021). There are also roles for Christina Ricci, Georgie Farmer, Riki Lindhome, Catherine Zeta-Jones and Luis Guzmán, among others.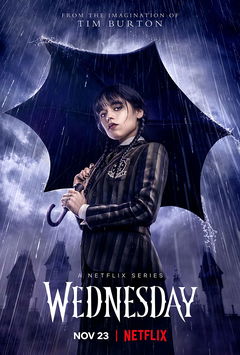 Watch on Netflix • 16-year-old Wednesday Addams studies at the Nevermore Academy. Wednesday tries to master her emerging psychic abilities.
Wednesday is from November 23 to be seen on Netflix.
Image: Still 'Wednesday' via Netflix
Text: Netflix
---