A new mystery series is coming to Netflix soon. The German-American 1899 (2022) revolves around a group of passengers on a migrant ship on the open sea and promises to be very exciting. The streaming service revealed last night, with all the protagonists, when the series will appear.
The German-American series was created by Baran bo Odar and Jantje Friese, and stars José Pimentão, Mathilde Ollivier, Miguel Bernardeau, Jonas Bloquet, Yann Gael, Andreas Pietschmann, Emily Beecham, Isabella Wei, Maciej Musial, Gabby Wong Rosalie Craig, Aneurin Barnard and Lucas Lynggaard Tønnesen. That's a diverse squad, and they were all there (online) when Netflix revealed the release date. Watch the video below:
The passengers on the ship all come from different backgrounds and nationalities, but share one big dream: to build a better future on the other side of the ocean. They have all embarked on the same perilous journey, which is proceeding smoothly. That changes when they suddenly encounter another migrant ship, which has been missing for months. They try to make contact, but what they find on board turns their journey into an ominous nightmare…
All episodes from 1899 are from Nov 17 to be seen on Netflix. Are you curious about which films and series will be released on Netflix in the near future? Here you will find our complete overview.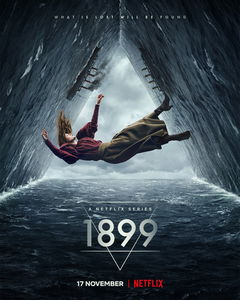 9.7 Watch on Netflix • The '1899' series is set during the journey of a migrant ship from Europe to New York. Even though the passengers come from different backgrounds and nationalities, they all share the same dreams and hope for a better future abroad.
Image: Still '1899' via Netflix
Text: Netflix
---