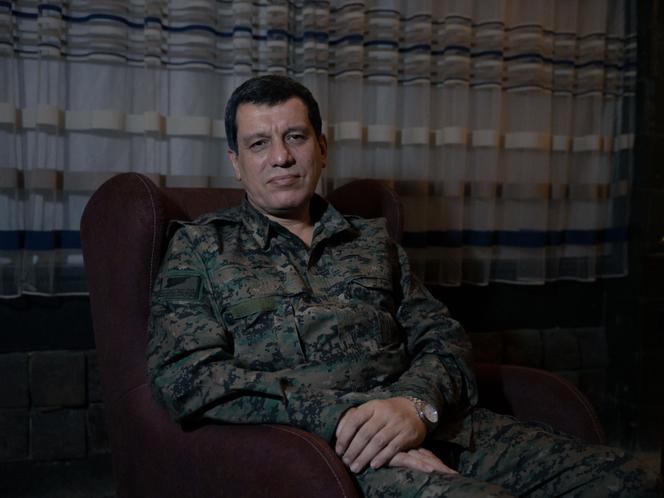 Commander Mazloum Abdi, head of the Syrian Democratic Forces, in Hassaké (Syria), September 9, 2022. © WILLIAM KEO / MAGNUM PHOTOS FOR "LE MONDE"
The threat agitated in May by Turkish President Recep Tayyip Ergogan of an offensive on the territories of northeastern Syria administered by the Syrian Democratic Forces (SDF) has not yet materialized. It is nonetheless "serious" in the eyes of Commander Mazloum Abdi, the head of the FDS. "If they have the chance, the Turks will carry it out. We are preparing to retaliate if necessary, "says the 55-year-old Syrian Kurdish soldier, met in the autonomous region on September 9.
Two reasons explain this delay. "Erdogan's attempt to get the green light, whether from the Americans or the Russians, has so far been unsuccessful," confirms Commander Abdi. And the Turkish forces are busy with the operation launched in Iraqi Kurdistan", in February, against the Kurdistan Workers' Party (PKK), of which the Democratic Union Party, the main component of the FDS, is the Syrian branch.
In June, Mr. Erdogan specified that the offensive would target Tall Rifaat and Manbij. "It will also target Kobané", the symbol of Kurdish resistance to the Islamic State organization (IS), assures Mr. Abdi, a native of this city. "The Turks want to have a permanent presence in Syria and annihilate Kurdish existence," he explains. It's the same scenario as in Afrin [en 2018] : push the Kurds out of this region and change the demographic balance. They have already announced that they will settle one million Syrian refugees. This cannot be done without the Kurds being assimilated or leaving the region. »
Read also: Article reserved for our subscribers Turkey's quiet war against Syrian Kurdistan
The FDS commander says he received "no guarantee" from the Americans or the Russians that the offensive would not take place. In 2019, the Americans authorized the Turkish offensive on Ras Al-Ain and Tall Abyad. "They learned from it. If the Turks attack, it will have repercussions on the very existence of the Americans on the ground and on the fight against the IS", he continues. SDF units have already been redeployed from Al-Hol camp and the Deir ez-Zor region towards the Turkish border. "Our fight against Turkey is played out at the intelligence level: we must concentrate our intelligence services on this fight rather than on the search for IS cells", explains Mazloum Abdi.
This is an open breach for the jihadist group. "We arrested, three months ago, an IS cell which had planned to attack the Al-Hol camp when the Turkish offensive would be launched to free the population", assures the commander of the FDS . He calls on foreign countries to repatriate their nationals, including France. "The steps are very slow. The delays are due to the French, not ours, "he says.
You have 58.49% of this article left to read. The following is for subscribers only.
---