A while ago, Netflix revealed the first images of the upcoming animated movie Pinocchio (2022) by Guillermo del Toro. In that teaser we saw some great stop-motion, and in a new video the director explains how that came about.
In addition, we also see how the filming of the stop-motion images went on set, and that looks beautiful. Only then do you actually see how labour-intensive the project is, and how accurately the makers work. In the short video, Del Toro also tells us something about the production process and takes us into his vision. Watch the video below:
The protagonists, as you have seen above, are played by little puppets on marionette strings. Their voices are provided by a host of big names, including Cate Blanchett, Tilda Swinton, Christop Waltz, Ewan McGregor, Ron Perlman, David Bradley and Finn Wolfhard.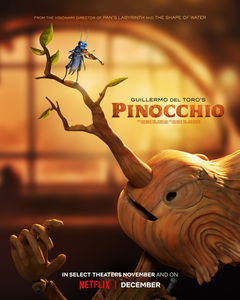 Watch on Netflix • A dark version of the classic children's fairy tale of a wooden doll turning into a real live boy.
Pinocchio is from Dec 9 to be seen on Netflix. The film will also hit some theaters by then. It is not yet clear whether this is also the case in the Netherlands. Are you curious about which films and series will be released on Netflix in the near future? Here you will find our complete overview.
Image: Still 'Pinocchio' via Netflix / Jason Schmidt
Text: Netflix
---