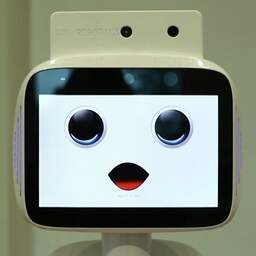 The morning newspaper reads itself, the fridge brings the drinks, the trash can clears up the mess and puts itself outside every Wednesday. Very handy. But what's that worth if you don't have any friends?
That's what Ravi de Robot is all about, the new children's performance that will soon premiere in Enschede. For this production, Theater Sonnevanck was looking for a special protagonist: a robot with a mind of its own. And who better to make it than Enschedeër Edwin Dertien, an experienced robot builder associated with the University of Twente.
He came up with an expressive robot, which may look cute, but is brutal and stubborn at the same time. Due to the variety of functionalities, Ravi has become a full cast member.
Edwin Dertien not only designed and built Ravi the robot, the professor will also control Ravi himself during the performance. That starts on October 8 in Sonnevanck's own theater on the Walstraat, and ends after twenty performances throughout the country in Enschede, on Sunday November 27.
Ravi the Robot will not be alone on stage. There are also 'real characters' such as the girl Sas and her computer-addicted and image-ringing father. Because in the end it's all about the question: Can a robot actually be a full-fledged family member?
With the construction of Ravi, Edwin Dertien immediately took the initiative for the 'Robot Theater Lab'. This is a platform that aims to use more robotics in the theater. Thanks to the variety of functionalities, Ravi is a full cast member that will be controlled by Edwin himself during the performance.
Ravi de Robot, Sunday October 8 and November 27 at Theater Sonnevanck in Enschede. Tickets: sonnevanck.nl.
---