At the request of the editors, community member Dan has started working on JoJo's Bizarre Adventure: All-Star Battle R. Does this fighting game manage to gain a place among the toppers? You can read it in his review:
Jojo's Bizarre Adventure will undoubtedly ring a bell with Manga and Anime enthusiasts. The brainchild of Hirohiko Araki, published since 1987, can be counted as one of the best-selling Manga series of all time. The series, which is particularly popular in Japan, also has quite a cult following in the West. The epic about the Joestar family has inspired many of the now popular Manga, Anime and game franchises. The manga is known for an unmistakable drawing style, slightly androgenic over-the-top characters, absurdist crude humor and hilarious explosions of violence accompanied by iconic catchphrases such as 'ORA!ORA!ORA!ORA!ORA!ORA!ORA!ORA!'.
The video game history of Jojo's Bizarre Adventure goes all the way back to Super Famicom and has spawned several dozen games with varying degrees of success over the years. The best-selling ever is JoJo's Bizarre adventure All Star Battle. This game was released only on the PS3 in 2013. This game is now being re-released with the addition 'R' after the name. This time as luckily for us as a multi-platform release.
Remaster, Remake or Re-Release?
It is quite startling that Bandai Namco chooses to mothball Jojo's Bizarre Adventure All Star Battle (ASB) again. Despite the fact that it sold well (500,000 units), it does not have a very good name among fighting game enthusiasts. Mainly for technical reasons. It is known as a very unbalanced 2.5D fighter, with the major characters from the franchise being massively over-powered. The netcode was nothing to write home about and there were also problems with the input buffering (the way the game processes your inputs and decides whether or not to run a move/special). Bandai didn't want to let the 35th anniversary of the Araki-san's cult hit go unnoticed, however, and thinks that, based on the good graphics and solid combat system, ASB has enough potential to be able to catch on. That means work to be done to thoroughly tackle all technical problems. The big question is what the added R in the title stands for: Remaster, remake or re-release?
The manga series describes in eight parts (the ninth part is in production) the ins and outs of the Joestar family and relatives. The central theme of the series is 'Homan', a martial arts technique that makes it possible to bundle physical energy into sunlight through controlled breathing. Some practitioners can even convert their Homan into psycho-spiritual manifestations called Stands. Each installment of the series describes a branch in the family tree of the Joestar family and their power struggles with his adoptive brother Dio Brando and his descendants and followers.
Styled by Araki
The game relies heavily on a number of character styles. These styles can usually be traced back to the character's place in the century-and-a-half-long JoJo timeline. Some characters can manifest their Homan powers in weapons or stronger attacks. Other characters can't use Homan at all, but they do have other specific powers or properties. The main style in the game is irrevocably the Stand style. Stand-characters can thus manifest alter-egos with their Homan energy which can give the fight a completely different turn. About half of the selectable characters have such a Stand. They have their own move set that generally extends further and has a larger hit zone than the moves of the character without an active Stand.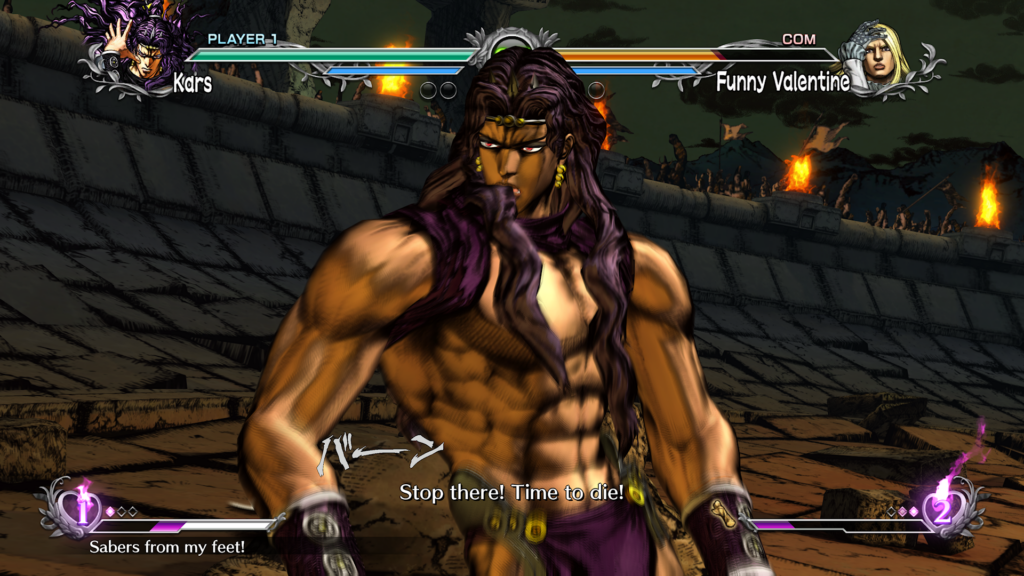 There are 50 characters in total to play, nine more than in the original. However, one has disappeared, so we are talking about 10 new characters. These new characters come from the parts of the manga that were released after the original game was released.
System overload
Basically, the combat system is quite simple and clear. You can fill three H-bars during the fight by dealing and taking blows. These H-bars can be used for special attacks (here called Heart Heat Attacks, abbreviated HHA) and Super Special Attacks (Great Heat Attacks, GHA). These specials are easy to perform and the button combination to do HHA or GHA is the same for almost all characters. Most of the other moves also use fairly standard button combinations. This allows you to quickly pick up a new character without having to dive directly into the command list. The quality-of-life additions such as 'Easy-beat' and hit stop (the animation stops a number of frames when your attack arrives and counts) also makes the game more accessible and somewhat gamer-friendly.
Once you get used to the basics of the combat system, you can explore and learn how to use the subsystems step-by-step. For example, you can use Taunts to deprive your opponent of H-bars. 'Strange Cancels' can be used to cancel your combo and then start a new combo from the beginning (to switch combos). We also have Stand Rush, Rush Mode, Stage Gimmicks and Stage Hazards to use. Really too much to explain. Even after 10+ hours, I still find the depth in the combat system overwhelming and I try, once in a while, to learn a new system and adapt it in my fights. You will not master this in a few hours.
Up to date
Those familiar with the original will recognize a marked improvement in the graphics. Not only the in-engine graphics have been updated, but also the main menu and all intermediate screens. The resolution has been boosted to 4K and the frame rate is now a steady 60 frames per second instead of the original 30fps. The input buffering has been adjusted a bit looser so that specials and moves are easier to perform.
polished
The character models look very slick thanks to the higher resolution and some polished 3D models. Only in victory poses, where the characters are zoomed in a lot, some blurry textures come to the fore. Attempts have been made to transform Araki-san's unique drawing style into 3D and it has been very successful. The characters jump off the screen. Together with the comic-panel-like menus, the total visual presentation is an atmospheric and colorful whole, which conveys the unique character of JoJo well. The arenas, on the other hand, seem somewhat dated. If you pay attention you will see some uninspired low-poly objects and the like. However, in the heat of battle, this is hardly noticeable.
All Star Battle Mode
Story mode is central to this game. This mode is completely new from the original and is now called 'All Star Battle'. This mode is split into 8 parts (similar to the manga parts) and lets you play lore relevant battles, with each part ending with an iconic boss fight. This new story does sacrifice the storytelling of the original story mode because the All Star Battle mode doesn't do it at all. If you are ignorant you will never understand the weight of these battles because the ASBR makes no effort to explain it. Except for some short intro dialogues. However, that doesn't make the gameplay any less fun. The ASB mode is a very varied but grindy game experience that has kept me fascinated for quite some time. Of course, winning battles are rewarded with credits that you can give in the shop. For example, you can unlock 3d models, soundtracks, art and character costumes here with your credit. In All Star Battle mode, some Special Conditions may be added to each battle, buffing or nerfing some of your or your opponent's attributes. This gives a little twist to the 107 fights that can be played in ASB mode, but does add some variety.
You can compensate for these 'conditions' or just give yourself some advantage by investing your hard-earned money in 'Support Effects'. This allows you to buff properties to your liking or completely nerf your opponent so that he can barely offer any resistance. Of course, there is a significant investment in return. Because in ASBR the sun rises for nothing.
Find balance
The balance between the characters was a problem in the original and in this version it is still a bit unbalanced. Stand-style characters again have an advantage over other styles because they can dominate the space 'close range' or even 'ranged' with their Stand. It is true that the stun phase (the moment after your attack when you can't do anything) is very long when using your Stand, making you vulnerable to counters.
Online malaise
Just like in the original, the outdated network code causes problems again. Bandai Namco apparently did not bother to thoroughly modernize the netcode. Something that is well arranged with most modern fighters. Tekken 7 has fantastic netcode and for goodness sake comes from the same publisher stable. Of the plus/minus 30 online matches, more than half resulted in problems: from annoying stuttering to annoying "transmitting…" popups that also give a chime sound. By avoiding the 'Quick play' mode and hosting yourself, you reduce the suffering considerably, but in the already sparsely populated Ranked mode this results in quite a bit of stuttering. If you can find someone at all.
Conclusion
It's a shame that the excellent All Star Battle mode, unique visual presentation and deep combat system suffer from all the connectivity issues. It will ultimately ensure that this game remains a fun single player experience but probably won't grow into a multiplayer kneiter like Tekken 7, Guilty Gear -Strive-, KoF XV, Street Fighter 6 or Dragon Ball Fighterz. The developer has with this REMASTER The gameplay has been given a nice refresher and the technical issues have been largely resolved, but the shaky online play will stand in the way of this game reaching the cult status its source material deserves. These kind of fighting games stand or fall on a good online experience and unfortunately that part has become the neglected child.
---