Card payments are gradually eating the ground to cash. Behind this silent transition to a world without coins or bills there is something more than comfort: the financial system and the big technology companies seek to increase their share of power. That is what the anthropologist and financial activist Brett Scott maintains in his book Cloud Money, which Debate has just published in Spanish. Controlling the payment infrastructure and transaction information is the last frontier left for the Big Tech. And we're going straight there.
"Cash is capitalist and at the same time limits the expansion of capitalism," says this South African born in Durban 40 years ago. Digital payments provide very valuable information that can not only increase surveillance of the population, but also provide clues to companies to better understand customers and offer them new services. After studying Anthropology, Scott moved to London to work as a broker. Experiencing the crisis of 2008 from the skyscrapers of the City made him change his pace. He began collaborating with NGOs, artists, and investigating the intersection between the financial system and technology, a subject on which he has written three books and a report for the UN, which he was asked to explore in 2016. the potential of blockchain and cryptocurrencies
QUESTION. Should we try not to pay by card?
RESPONSE. I'm not saying we don't use them, but we have to find a balance of power in the monetary system. Banks shouldn't dominate the game, it's always bad when a few very big companies get too much power. In the end, it is about maintaining a certain degree of decentralization. Card payments are not flows of money between individuals and banks: there is a third actor, intermediaries such as Visa or Mastercard, to which others such as Google or Apple are joining. Imagine that cash is a public bicycle service and the digital payment system is Uber. You can be an Uber user, but that is different from saying that you also have to eliminate bike lanes from cities. I have nothing against digital systems, I just say that a balance should be maintained between the two. Imagine if Uber were the only method of transportation: it would know everything about us, it would deploy more cars in the wealthier neighborhoods and avoid the poorest…
P. In the book you emphasize that Paul Armer, a computer scientist, warned in 1968 before the US Senate of the danger of registering all the economic transactions of the people. So it was considered unfeasible. Are we closer to that point?
R. Spain is not there yet, here for small purchases cash is still used. They have a good balance. But in the UK, where I have lived for ten years, coins and notes are disappearing: they only account for 10%. The information provided by payments is the last data frontier that remained to be recorded. They really reflect how a society behaves. During the protests in Hong Kong, protesters began queuing at subway counters to pay cash. Precisely because they knew that the digital applications they used to buy tickets can keep track of who, where and when they have used that transport to go where.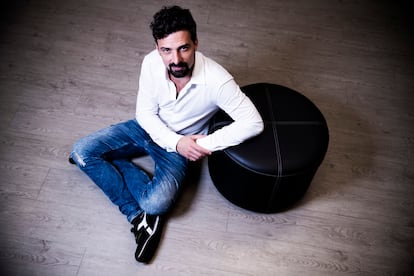 The South African Brett Scott poses at the Madrid headquarters of the Penguin Books publishing house, which has just published his book 'Cloud Money' in Spanish. Luis Sevillano
P. The financial sector is not the only one that presses to end cash, you say, but also public institutions. Why?
R. We must bear in mind that we live in liberal societies in which, for some reason, the idea that the increasing automation of processes is the path to progress has triumphed. Many politicians think it's about catching up, when it really means making people dependent on big corporate systems. The public sector says that by registering payments it can more closely track tax payments and trace potential crimes. It also happens that the guardians of cash, the central banks, do not invest in advertising and marketing, as do Visa, Mastercard, the fintech and the Big Tech: They are sending us the message that cash is bad, that it is a hindrance from the past and encourages crime.
P. This last one, fighting crime, is the great argument against cash. Do you agree with him?
A. There are two ways to answer this question. The first is that in the digital system there is a lot of crime and money laundering. The vast majority of people use cash legitimately. But even if there were a significant proportion of criminals among them and it was decided to do away with cash, many new problems would be created. The monetary system would be subject to surveillance and censorship, much political power would be transferred to the private sector.
Q. What do you mean by political power?
A. Essentially, we are giving the financial sector control of the infrastructure. It is convenient that the lighting or the roads, the things that you cannot stop using, are not in a few hands for profit. Once you give up an infrastructure, you are already hostage to whoever controls it. When in the financial crisis of 2008 it was said that banks were too big to fail, it was implicitly recognized that we depend on these actors. What if the companies that manage the payments are not interested in providing their services to people from whom they are not going to make a profit? The Big Tech they have become infrastructure, and that is why Jeff Bezos is earning about $200 million a week without getting out of bed.
"In the next ten years, political movements will emerge that will demand less dependence on Big Tech and the return to cash payments"

Brett Scott
P. You warn of the danger of the financial and technological sectors merging. Do we have reason to worry?
R. It is already happening. The merger of the financial sector and the big technology companies will give birth to companies with a power never seen in the history of humanity. But we still have alternatives, we can still pay cash. When that system is finished is when the problems arrive. I am worried that the thing is going too far. In the next 10 years, political movements will emerge that will demand that we stop depending on these important actors. It is quite possible that the revival of cash will be called for.
P. You maintain that, when we talk about Big Brother, it would be convenient to distinguish between Big Doorman and Big Butler. What is he referring to?
A. We associate the idea of ​​Big Brother with state supervision of our lives. But often the other uses of personal data are not thought of. The Great Doormen are the companies that use the data to decide whether or not you have access to something, just like nightclub bouncers do. For example, the credit rating agencies, which use thousands of data obtained from your phone to analyze you and infer your socioeconomic level. As for the Great Butler, I am referring to the companies that use your data to offer you things that interest you. That is a little explored frontier. When you enter a store's website, they will show you some products and others for me. The sum of the Great Porter and the Great Butler generate tremendous social control. And adding payment data to that equation will increase your effectiveness.
P. Is paying in cash then a revolutionary act?
A. In this current phase of global capitalism, paying in cash is becoming countercultural. Many young progressives have embraced the ideology that promotes digital payments as synonymous with progress and modernity. It is a huge cultural victory for the Big Tech. So I would say yes, paying cash is an almost revolutionary act. More than using cryptocurrencies, which came to offer alternatives but really follow the same discourse as digital card payments.
Q. You say in your book that Bitcoin "allows people to imagine themselves overthrowing the economic order while chasing speculative dollar profits." What do you think of cryptocurrencies as a whole?
R. They have become a very important industry, which has the support of venture capital from Silicon Valley. Bitcoin's initial concern was to envision a society with a currency controlled by the people. I was very involved in its beginnings, but over time it became just another speculative product. I am not cryptoskeptic: New hybrid formulas are emerging and they look good, but cryptocurrencies are not the solution to the hypothetical disappearance of cash. They do not tackle the basic problem: maintaining the balance of power in the monetary system.
You can follow THE COUNTRY TECHNOLOGY in Facebook y Twitter or sign up here to receive our newsletter semanal.
Subscribe to continue reading
read without limits
---