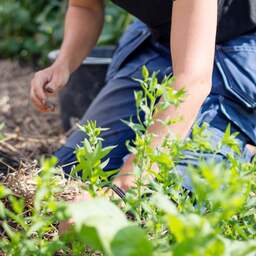 More biodiversity in your own garden. The Gelderland Landscape Management Foundation (SLG) is looking for an ambassador in Beuningen, Wijchen and Nijmegen to help promote this in the countryside.
There is already such an ambassador in thirty municipalities in Gelderland, who is building a local network of people who also want more biodiversity in their garden. Important, says the Gelderland Landscape Management Foundation, because in such a garden animals can hide or nest, they find food and it is a green corridor between one site or another.
"It's not about small gardens," says Yvonne Bloemena of SLG. People who want to participate in the Practical Network Biodiversity for Outsiders must have a few hectares of land, not intended for agricultural use. "It concerns people in rural areas. The intention is that they can see how the ambassador does this, for inspiration and to gain knowledge for their own field."
Bloemena calls it a network of like-minded people. The ambassador is therefore also expected to have a diverse terrain and experience with nature-friendly management. Someone from the countryside who has been working on increasing biodiversity for a long time, who knows successes and knows from experience what does not work.
SLG helps that volunteer with, for example, an inspiration morning and knowledge, a course or advice. The foundation has been working on this project since last year in order to increase the natural values ​​in the countryside. SLG started recruiting this spring. There are already ambassadors in thirty municipalities. "A network has already been established for some and it is already starting to run."
In addition to Beuningen, Wijchen, Nijmegen, ambassadors are also being sought in Neder-Betuwe, Maasdriel and Zaltbommel, on the Veluwe, in Zevenaar and Montferland.
---