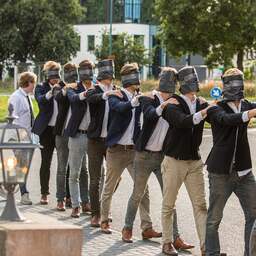 Lying in the Hofvijver for hours until you hypothermic touches. Being sprayed with urine or forced to drink beer with unsavory ingredients. These are a few examples of recent hazing in The Hague and Maastricht that got out of hand. Where do hazing come from? One thing is certain: they are old. And the end is not yet in sight.
Dejuvenation has been around for centuries. The hazing as we know it now already occurred at the Akademeia. That famous school in Athens was founded by the Greek philosopher Plato. He called the rituals barbaric and compared the perpetrators to wild animals.
According to the American researcher Ruth Sterner (Oregon State University), it was all about 'jokes' that senior students played on new students. For example, to make them belong to the group, they were mistreated. Or they were humiliated by having to wear inappropriate clothing, for example.
The freshmen had to endure this agony to show respect to older students. Only in this way could they become a full-fledged student and 'belong'. Even then, it was not self-evident for many people to study at university.
The first Dutch university opened in Leiden in 1575. First there were student groups based on the city or province they came from. Often these student groups arose without the knowledge of the universities.
The first Dutch hazing were in Utrecht and Groningen. They got so out of hand that universities wanted to put a stop to it. In 1814 they therefore gave the students permission to the first corps of the Netherlands: Vindicat.
That corps had to ensure that the initiation went smoothly and without violence. But in recent years, Vindicat has come under fire several times for abuse during hazing.
Despite the criticism of hazing these days, the end does not seem to be in sight. "People sometimes behave differently in groups. That is part of the human being and has always existed," explains Arjaan Wit. He is senior lecturer in social and organizational psychology at Leiden University.
"Every organization has its own ways of initiating newcomers. For example, large companies have team outings. But forms of hazing are also held in the army, the police and the fire service. And sometimes things go wrong. That also has to do with the culture that prevails within the organization.
In any case, according to the social psychologist, it makes no sense to abolish hazing. They will happen anyway. And if we don't hear about it, it happens indoors. "Many students still want to join such a student association," says Wit. "Some are even proud that they experienced bizarre hazing. They are very happy that they managed to join a student association."
---