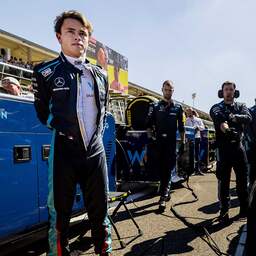 With an excellent debut in Formula 1, Nyck de Vries raced into the spotlight on Sunday. Williams and Alpine in particular seem to want to work with De Vries for next year, who is close to a future in the premier class of motorsport.
The 27-year-old De Vries has been linked to a seat in Formula 1 for years, but he never got a chance to prove himself during a race in a Grand Prix weekend. Until Saturday morning, when he heard an hour and a half before the start of the third free practice session in Monza, Italy, that Williams driver Alexander Albon had been stricken with acute appendicitis and he was allowed to replace the British Thai.
Although he had almost no time to prepare, De Vries seized the opportunity with both hands. He already impressed in qualifying on Saturday afternoon by making it to Q2 with the Williams and was faster than teammate Nicholas Latifi, who has been driving for the illustrious team from the British Grove since 2020.
Due to grid penalties from other drivers, De Vries moved up to eighth starting position a day later. After a clear race he converted that starting position into ninth position, scoring two points. With that, he passed Latifi in the World Cup position, who has not raced in the top ten once this year.
After the race at Monza, De Vries was showered with compliments. The renowned British motorsport medium The Race gave De Vries a rare 10 as a final mark and he also received the maximum score from the British magazine Autosport.
De Vries has been affiliated with Mercedes since 2019
De Vries, the Formula 2 champion of 2019, was brought in by Mercedes after his title in the most important step-up class towards Formula 1. The German motorsport giant stabled him with the works team in Formula E, where he took the world title at the beginning of last year. For the last two years he has also been Mercedes' official reserve driver in Formula 1.
Mercedes team boss Toto Wolff was lyrical about De Vries' performance in Monza. "I would not know what else he has to do to be allowed to drive in Formula 1 next year," said Wolff, who does not (yet) have a place for him at Mercedes with ongoing contracts from Lewis Hamilton and George Russell.
Williams team boss Jost Capito made it no secret on Sunday afternoon that he would love to have De Vries next year. "But it's mainly up to him," said Capito, suggesting that De Vries has already received other offers.
At Williams, where Albon is already sure of a seat for next year, De Vries would replace Latifi. He is the only full-time driver not to have scored a single point this year. The 27-year-old Canadian, who finished second behind De Vries in Formula 2 in 2019, brings tens of millions in sponsorship money.
Because Williams was taken over by investment company Dorilton Capital and Formula 1 has now introduced a budget cap, Williams will probably no longer need the millions from Latifi next year. That clears the way for De Vries, who, unlike Latifi, cannot contribute tens of millions in sponsorship money.
Alpine would already schedule a Formula 1 test with De Vries
Williams may have competition from Alpine in the battle for a signature from De Vries. After missing out on super talent Oscar Piastri, it is still unknown who will be Esteban Ocon's teammate at the French racing stable next year. Pierre Gasly was reportedly at the top of Alpine's list, but his current employer AlphaTauri only wants to let Gasly go next year if a worthy replacement for Gasly is found.
Red Bull CEO Helmut Marko said at the beginning of this month in Zandvoort that he would love to bring IndyCar driver Colton Herta to Formula 1 as a replacement for Gasly. But because the 22-year-old American does not have enough points for a Formula 1 super license, it is very uncertain whether that deal can go through.
Because Alpine does not want to wait until the last minute for the possible arrival of Gasly, the team would like to work with De Vries. According to The Race a test at the Hungaroring has even been scheduled somewhere in the next three weeks to take a closer look at De Vries' qualities. During the same test, nineteen-year-old Jack Doohan – the number four in the Formula 2 championship – would also be in action. Nico Hulkenberg – a 184-time Grand Prix driver – is also reportedly in the running for the last Alpine seat.
The other teams seem to prefer a driver from their own training. Although it cannot be ruled out that De Vries will later come into the picture at one of these stables. In any case, it will be exciting weeks for De Vries, who has never been so close to a full-time future in Formula 1 in his entire career.
The confirmed Formula 1 drivers of 2023
Red Bull Racing – Max Verstappen and Sergio Pérez Ferrari – Charles Leclerc and Carlos Sainz Mercedes – George Russell and Lewis Hamilton Alpine – Esteban Ocon McLaren – Lando Norris and Oscar Piastri Alfa Romeo – Valtteri Bottas Haas F1 – Kevin Magnussen AlphaTauri – Pierre Gasly Aston Martin – Fernando Alonso and Lance Stroll Williams – Alexander Albon
---