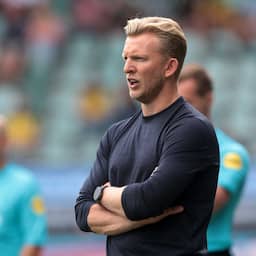 About thirty supporters of ADO Den Haag had a conversation with trainer Dirk Kuijt at the training field on Sunday. The fans of the current number seventeen of the Kitchen Champion Division are dissatisfied with the poor start to the season.
General director Edwin Reijntjes confirms that ADO had already been tipped off by the police in advance that this could happen. The police had also come to the training field as a precaution, but intervention was not necessary.
Reijntjes adds Broadcasting West to "not to play panic football" regarding Kuijt's position. "We will not let ourselves be pressured, we still have faith in Kuijt. We think that we can still promote with the current staff and selection."
ADO is only on four points after six games. Last season, the club only just missed promotion to the Eredivisie. Kuijt's team will play against Jong FC Utrecht on Monday.
On Friday, part of the supporters waved white handkerchiefs during the home game against Jong AZ (2-2), as a sign that they want to get rid of Kuijt. The 42-year-old coach called on the fans afterwards to support the team in a positive way.
---