Remco Evenepoel had a flat tire in the final of the sixteenth stage of the Vuelta a España on Tuesday after his competitor Primoz Roglic attacked. The red jersey wearer said afterwards that he is not the person to fake material breakdowns.
"I was in the middle of the peloton, in position twenty to thirty", Evenepoel described the situation when he had a flat tire. "I turned on and my rear wheel slipped. That's when I knew I had a flat tire."
The Belgian punctured just under 3 kilometers from the finish, just after Roglic had attacked from the peloton. In the event of material failure or a crash in the last 3 kilometers, a rider will receive the time of the group from which he had to release after his name.
"I am not the person who is going to fake or cheat", Evenepoel pressed innuendo about a made-up flat tire. "I had good legs and I even wanted to participate for the stage victory. I'm not making up anything."
Evenepoel eventually got the time of the peloton behind his name and therefore lost eight seconds on Roglic. The Jumbo-Visma leader, who crashed hard in the last meters, got the time of the first group behind his name.
Primoz Roglic crashed hard in the last meters.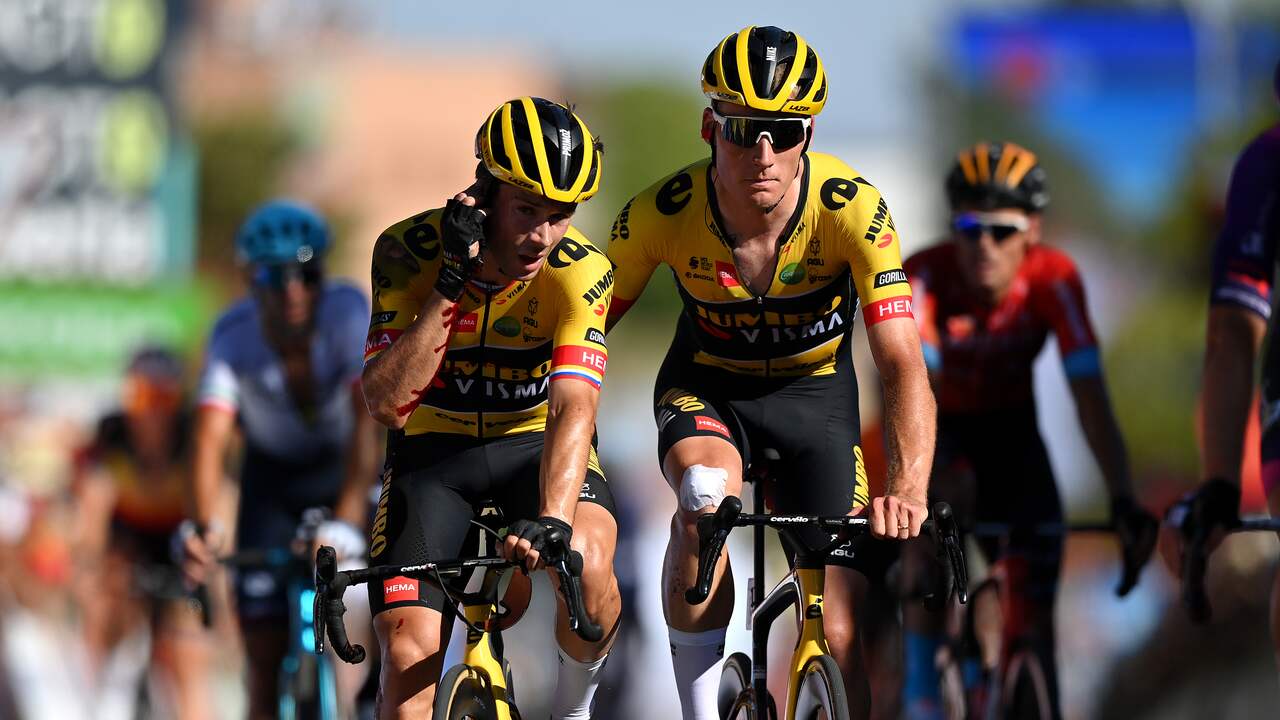 Primoz Roglic crashed hard in the last meters.
Photo: Getty Images
'I hope Roglic recovers well'
The difference between classification leader Evenepoel and number two Roglic is now 1.26 minutes. The 22-year-old rider of Quick-Step Alpha Vinyl can live with that. "From 1.34 to 1.26. That's still okay."
Roglic, supported by his teammate Mike Teunissen, crossed the finish line with a bloodied knee and arm. Evenepoel hopes that the damage is not too bad for its competitor. "It was a pretty ugly fall and you wouldn't wish that on anyone. I hope he recovers well."
The Vuelta continues on Wednesday with a 162.3 kilometer ride from Aracena to Monasterio de Tentudía. The finish is on a second category climb.
---