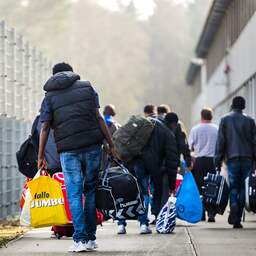 Hotel Nuland will receive fifty young refugees between the ages of 15 and 17 for a maximum of twelve weeks. They will probably arrive in Nuland on Monday. The municipality of Den Bosch has expressed its concerns about this temporary shelter.
Local residents of Hotel Nuland will be informed about the reception on Friday. The Van der Valk catering family, who runs the hotel in Nuland, has offered the location for emergency shelter. With this temporary shelter they are working on extra emergency shelter places to alleviate the situation in Ter Apel in Groningen.
"Also places for unaccompanied minor foreign nationals who are now staying there too long in unsafe conditions," the Municipal Executive of Den Bosch reports in a letter to the city council. It is striking that the Commission states that it has 'no direct involvement in any way' in this reception.
Mayors from the Security Council, including Mayor Jack Mikkers of Den Bosch, said earlier that they wanted to cooperate in extra crisis emergency care until October 1 at the most, because that is not actually a task of municipalities. They want the government to provide more emergency shelters.
The Nidos Foundation (youth protection for refugees) is responsible for the reception of these young refugees, who often arrive in the Netherlands without parents. This in collaboration with the Central Agency for the Reception of Asylum Seekers (COA). Three quarters of the young refugees come from Syria, the others have different nationalities.
The municipal council of Den Bosch has expressed its concerns to Nidos about the arrival of the fifty young refugees. 'Due to the location of this location; given the combination with other shelters in Nuland', the Commission refers to the emergency shelters in Nuland. B and W find it 'crucial that the group is properly and constantly supervised'. Nidos recognizes the Bossche concerns and is therefore deploying a strong supervisory team, the college stated in the letter. 'This team is available day and night'.
Nidos also provides daytime activities and transport for the young refugees. No one at Hotel Van Nuland could be reached for comment. The hotel is currently being renovated. Van der Valk also takes in refugees at Meerwijk Castle in Engelen.
---