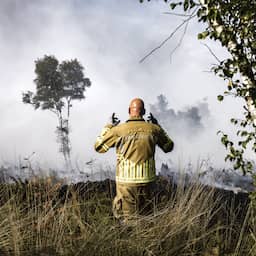 A wildfire with a size of approximately 2 square kilometers is raging in nature reserve De Peel near the Limburg village of Griendtsveen. The municipality of Horst aan de Maas has announced an emergency ordinance for the area. Emergency services are trying to fight the fire with all their might.
The emergency ordinance states that the area is off-limits to anyone who has no business being there. According to the municipality, it is too dangerous and curious people get in the way of rescuers.
An NL-Alert also went out on the Brabant side of the area, to warn of the smoke moving towards Asten. People are advised to keep windows and doors closed.
The first report came in around 6.30 am from a bird controller, who saw smoke and fire. The fire was then still limited to 1 hectare, but quickly spread to double that.
Multiple platoons fight fire
Fire brigades from North Brabant, Limburg and Overijssel are fighting the fire with several platoons. A platoon consists of four tanker guns and a water car. An Air Force helicopter is also dropping water over inaccessible areas.
The fire is spreading quickly, a spokesperson for the fire brigade told Broadcasting Brabant. "De Peel is a large, impenetrable area with a lot of peat. It takes a lot of manual work to get somewhere. Tanker sprayers cannot drive into the area."
The smoke from the fire moves slightly over the A67, but according to the fire service, it does not need to be closed yet. "As the temperature continues to rise, the smoke is more drawn into the air."
Fire only on Limburg territory for the time being
The fire in the Peel is limited to Limburg territory for the time being on Wednesday. However, the Brabant fire brigade has announced the GRIP1 alarm phase as a precaution. This means that the emergency services will work more closely together.
Together with a national advisor for wildfirefighting, the fire service draws up an action plan that always looks two hours ahead.
In 2020, a fire raged a few kilometers away in the same area that proved difficult to fight. The fire smoldered underground for weeks and the so-called Peel fire eventually reduced 800 hectares of nature reserve to ashes.
---