Jeremie Frimpong made his mark at Bayer Leverkusen in the Bundesliga on Saturday. The candidate for a place in the selection of Orange scored twice during the 0-3 away match against FSV Mainz. Former Eredivisie striker Sheraldo Becker also helped Union Berlin with two goals to an away win, while Bayern Munich lost points at home to Borussia Monchengladbach for the first time this season.
Leverkusen took the lead in Mainz thanks to Exequiel Palacios, after which Frimpong had the floor before half-time. The fast 21-year-old right-back crowned his attacking impulses with a goal twice. In the final phase, both Mitchel Bakker and Piero Hincapié got yellow and therefore red at Leverkusen.
With his leading role, Frimpong is an explicit candidate for a place in the pre-selection of Orange three months before the start of the World Cup in Qatar, which will be announced on Friday. The Netherlands will play in the Nations League against Poland and Belgium at the end of next month.
Frimpong, born in Amsterdam, already belonged to the preliminary selection of national coach Louis van Gaal in March. Shortly afterwards, however, he suffered a serious ankle injury, which meant that his season was over and he could forget a place in Orange for the time being.
Thanks in part to the contribution of Frimpong, who was taken over from Celtic for 11 million euros a year and a half ago, Leverkusen booked the first season victory after three defeats.
Former Eredivisie players help Union Berlin
Surinamese international Becker also made a name for himself. The former player of PEC Zwolle and ADO Den Haag helped Union Berlin with two hits (one before and one after the break) to a 1-5 win over Schalke 04. Former sc Heerenveen midfielder Morten Thorsby also scored; former Vitessenaar Danilho Doekhi was the declarant.
Due to the victory, Union Berlin has as many points as Bayern Munich (ten out of four), which could not beat Borussia Mönchengladbach (1-1). The goal difference of the club of Matthijs de Ligt, Ryan Gravenberch and Noussair Mazraoui is much better (+14 at +8).
Mazroaui and Gravenberch remained on the bench for ninety minutes against Mönchengladbach and De Ligt was only allowed to come in in the 86th minute.
Monchengladbach goalkeeper Yann Sommer excelled against Bayern Munich.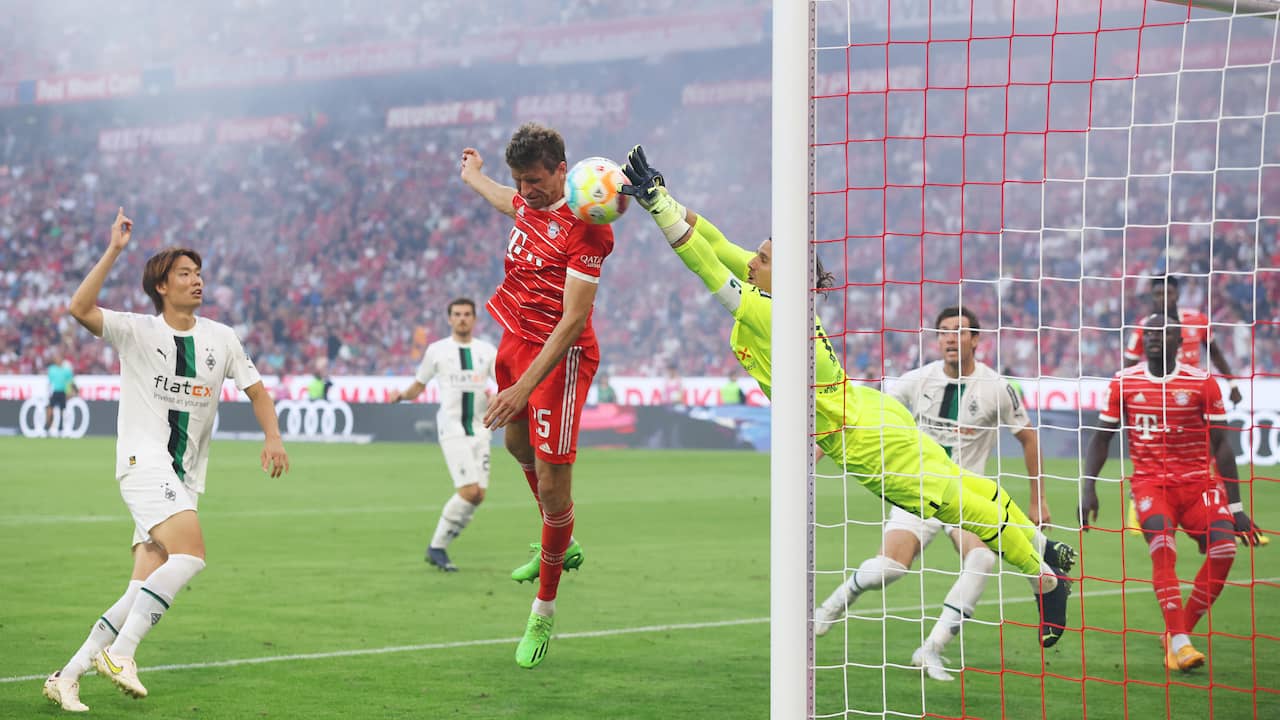 Monchengladbach goalkeeper Yann Sommer excelled against Bayern Munich.
Photo: Getty Images
Competitor De Ligt in error
Without the three former Ajax players, Bayern had many opportunities, but the reigning champions managed to pass Mönchengladbach goalkeeper Yann Sommer only once. Leroy Sane scored in the 83rd minute. On behalf of the away team, Marcus Thuram only had one chance to score in the 43rd minute.
That opportunity arose after a mistake by Dayot Upamecano, De Ligt's French competitor in the center back. Thuram was able to approach goalkeeper Manuel Neuer and passed him. Just before that, Sadio Mane, who came over from Liverpool, had seen two goals disallowed for offside. Bayern had more than ten attempts before halftime. Bayern fired more than thirty goals in the entire game.
De Ligt, who came in as attacker, was close to the winning goal with a shot from just outside the penalty area, but Sommer saved again. The Swiss did that more than fifteen times.
Furthermore, thanks to two goals from Christopher Nkunku, RB Leipzig was 2-0 too strong for VfL Wolfsburg, which started with Micky van de Ven. Jean-Paul Boëtius could not save Hertha BSC from a 0-1 defeat against Borussia Dortmund (goal Anthony Modeste).
View the results, standings and program in the Bundesliga
---