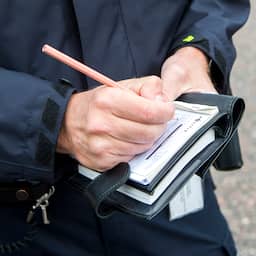 Last year, enforcement officers from the municipality of Amsterdam issued a total of 525,969 parking fines. That amounts to one fine per minute, despite the fact that it was a lot quieter in the capital than usual due to the corona crisis. This is evident from figures from the municipality of Amsterdam that have been requested by NH Nieuws.
All those fines yielded a total of 36 million euros. 29 million of that went to the municipal coffers, 7 million disappeared into the state coffers.
The vast majority of fines were issued for not paying parking fees or not paying enough. 489,200 times last year motorists received a so-called additional assessment. It costs 66.50 euros plus an hour of parking. In 2019, this fine was still 47.60 euros. The municipality explains the sharp increase because the enforcement costs would have risen.
Nearly 14,000 motorists were fined for illegally standing still on the roadway. And more than 4,500 motorists were fined for parking their car in a place where that is not allowed. Also for this had to be paid 100 euros.
Recent research by the municipal ombudsman shows that parking fines are the biggest source of irritation for Amsterdam residents. From an inventory of the 1,378 complaints received by the Amsterdam ombudsman last year, 204 complaints concerned parking.
Ombudsman Munish Ramlal believes that the municipality shows little empathy towards Amsterdammers when it comes to handling complaints. According to him, the complaint handling is poor and the municipality gets bogged down in legal nonsense instead of solution-oriented thinking: "Don't think about how things can be better, such as calling after three fines, instead of continuing with fines like a headless chicken."
The municipality disputes that the 'human measure' is missing. According to the municipality, a team of officials is working daily to deal with objections in a proper manner. In total, objections were lodged against 76,100 parking fines last year. It is unclear how many fines the municipality has waived.
---