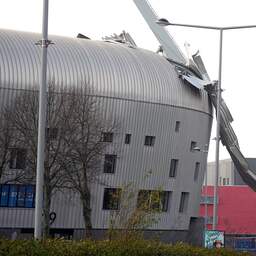 Repair work on the roof of the ADO Den Haag stadium will start next Monday. Part of the roof of the Bingoal stadium was blown away last February by storm Eunice.
The fact that the repair will only start on Monday is because the delivery of the necessary materials took longer than usual. During the repair work, which will take approximately two months, sections S and T on the Aad Mansveld grandstand cannot be used for the time being. Season ticket holders who normally have a seat in one of those slots will be reassigned.
Last Wednesday, ADO Den Haag announced that the club can play the match against Jong Ajax on August 28 with an audience again. The home crowd was temporarily not welcome after the riots at the lost promotion match against Excelsior. The municipality, the police and the Public Prosecution Service have drawn up strict conditions, so that the club knows exactly who is in the stadium and a repeat of the play-off riots of last May is prevented.
Whether a home crowd can also be present at the next game – against Jong AZ on Friday 9 September – is still being considered separately.
---