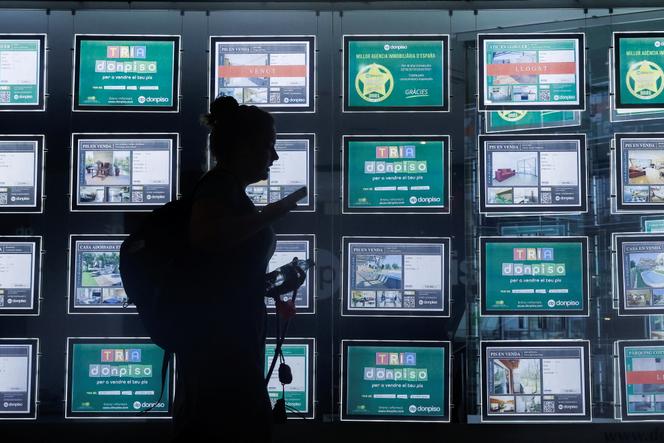 In a street in El Masnou, near Barcelona (Spain), June 13, 2022. ALBERT GEA / REUTERS
Inflation has so far not dampened the Spaniards' appetite for stone. According to data published on 5th August by the National Institute of Statistics (INE), nearly 331,000 homes were sold in the first quarter of this year, the highest figure since 2007. It follows a record year : 565,523 homes sold in 2021, an increase of 34.6% compared to 2020.
Read also: Article reserved for our subscribers Why the real estate market is slowing down everywhere in Europe
The long convalescence that began the day after the bursting of the real estate bubble in 2008, which plunged the country into a serious banking and financial crisis, therefore seems to be a thing of the past. "The year 2022 is very intense and the figures are better than last year, estimates Maria Matos, research director of the real estate site Fotocasa. At this rate, we could exceed 600,000 sales. »
"Slowdown"
The Spanish market had already experienced an upturn at the end of the 2010s, in a context of strong economic growth. This dynamic had been halted in 2020 by the health crisis, but the restart took place fairly quickly. "Since mid-2021, household savings, new housing demands created by confinement, and low interest rates have driven sales up," explains Cristina Arias, from the real estate portal Tinsa.
The rise in sales has not been accompanied by housing starts: less than one in five sales between January and June correspond to new homes
How does the second half of 2022 look like? "Everything seems to be slowing down," said Francisco Iñareta of the Idealista property sales site. "The rise in interest rates and the tightening of the conditions for granting real estate loans could augur a slowdown in the rise in prices and the volume of sales", confirms Ms. Matos. Inflation, which in Spain accelerated in July to reach 10.8% over one year, "will begin to weigh on Spanish households and reduce their ability to save," adds the analyst.
Another challenge for Spanish real estate: the shortage of properties for sale. Unlike the concrete craze that gripped the peninsula fifteen years ago (the construction sector accounted for more than 10% of GDP in 2007), the rise in sales has not been accompanied by new housing starts: less than one in five sales between January and June correspond to new homes.
Risk of overheating
"The strong demand recorded last year has reduced the number of old dwellings, and new building permits are progressing very slowly, due to lengthy administrative procedures and the high cost of materials and labour," explains Mr. Iñareta. "This implies that prices are slowly tightening, especially in some cities like Madrid and Malaga and in the two archipelagos of the Canaries and the Balearics. »
You have 15% of this article left to read. The following is for subscribers only.
---