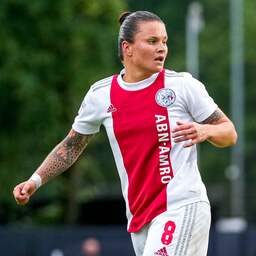 Ajax Women won the first match in the preliminary round of the Champions League on Thursday. In Denmark, Sweden's Kristianstads was defeated 3-1 by goals from Victoria Pelova, Eshly Bakker and Chasity Grant.
Due to the narrow victory, Ajax keeps track of participation in the main tournament of the Champions League. The team from Amsterdam will play against the winner of the other game in the group on Sunday: Eintracht Frankfurt – Fortuna Hjørring. If this match is also won, the team of coach Suzanne Bakker will advance to the second and final preliminary round.
Ajax got off to a good start against Kristianstads and created some opportunities, but keeper Melina Loeck kept her goal clean. After more than fifteen minutes of play, Ajax had to concede a goal. Keeper Lize Kop couldn't stop an apparently easy shot: 0-1.
Immediately after the break, Bakker's team had a great chance of the equalizer. Pelova shot from the edge of the box towards the goal, but Loeck made a good save. Ashleigh Weerden couldn't find the net on the rebound.
Halfway through the second half it finally hit Ajax. Grant gave a good pass to Pelova, who played the ball through Loeck's legs: 1-1. Moments later, Ajax even took the lead. A good attack from the right was crowned with a goal from substitute Bakker: 2-1. Grant made it 3-1 in stoppage time.
---