It's been a while, but in 2013, Ryan Reynolds starred alongside Jeff Bridges in RIPD (2013). Now, nine years later, Universal appears to be working on a sequel to the action comedy. The official title is also already known: RIPD 2: Rise of the Damned.
Rest in Peace Department is back
Universal is not yet announcing the film with all the bells and whistles, but the title suddenly appears in a message from MPA (Motion Picture Association). They announce that RIPD 2 will have an age limit of PG-13, approximately equal to 12+ in the Netherlands, because of "violence, swear words and sexual references".
Will Reynolds and Bridges return?
Details about the plot are not yet known. It's also unclear whether protagonists Reynolds and Jeff Bridges will return, but they are nowhere to be seen on the sequel's IMDb page. In the original film, they played two officers from the police station that protects both the living and the dead. Cast members who are well known are Richard Fleeshman, Jake Choi and Kerry Knuppe.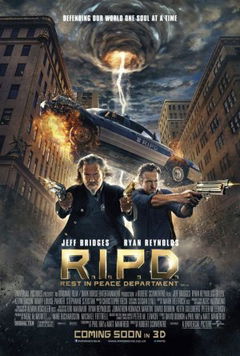 5.6 Watch on Netflix • Nick Walker, a recently deceased police officer (Ryan Reynolds), joins a team of other zombie cops working for the Rest in Peace Department (RIPD).
Probably not in the cinema
The sequel will be directed and written by Paul Leyden, who previously Chick Fight (2020) made. The fact that the film hasn't been widely announced is partly due to the fact that Universal will release the film as direct-to-video for Universal Pictures Home Entertainment. RIPD 2: Rise of the Damned will therefore not be in cinemas. It is currently unknown where and when the film will be released.
Image: Still 'RIPD' via TMDb
---