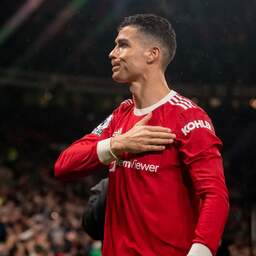 Liverpool police issued a warning to Cristiano Ronaldo on Wednesday for his misconduct after the lost away game against Everton (1-0) in early April. The Manchester United attacker then smashed a phone from the hands of a young fan.
"The matter has been closed with a warning," the Liverpool police said. If Ronaldo crosses the line again, he could be prosecuted.
As Ronaldo walked towards the catacombs after the defeat to Everton, he was filmed by a fan standing behind a fence. With a bang, the visibly irritated Portuguese knocked the device out of the boy's hands.
Ronaldo's action was captured by another Everton supporter filming. Liverpool Police immediately launched an investigation into the incident. The five-time Golden Ball winner later apologized in a message on Instagram.
"It is never easy to deal with emotions in difficult moments. Nevertheless, we must always remain respectful, patient and an example for the youth," Ronaldo wrote. "I want to say sorry for my outburst."
Ronaldo has been a topic of conversation for weeks. The attacker would like to leave Manchester United, although he wrote in a message on Instagram on Wednesday that what the media writes is not correct. "The media are spreading lies. I have kept in a notepad that only five out of a hundred news stories about me were true in recent months."
---