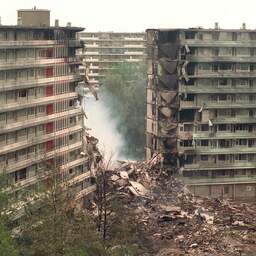 17 Aug 2022 at 13:40
The Amsterdam Museum will open an exhibition about the Bijlmer disaster in September. Almost thirty years ago, on October 4, 1992, an El Al cargo plane crashed into the Bijlmerflats Groeneveen and Klein-Kruitberg.
By our entertainment editors
The exhibition is based on stories of Amsterdammers: their feelings, how they commemorate the disaster and how different generations process the trauma.
For this exhibition, the museum is collaborating with Imagine IC, a museum and archive in the Bijlmer. Not only old newspaper pages, children's drawings, videos and works of art, but also two wreckage of the crashed Boeing 747 will be on display.
At the same time, in the museum there is a photo and video exhibition about the famous nightclub RoXY. The club burned down on the day in 1999 that co-founder Peter Giele was buried. Former house photographer Cleo Campert shares her images from that time. There is also a small exhibition about the housing crisis in the capital.
The Amsterdam Museum is being renovated and is therefore temporarily housed in the Hermitage aan de Amstel. There the museum exhibits part of the permanent collection and organizes changing exhibitions under the name Collecting the City.
The three exhibitions together form the second edition of that project. They will start on September 25 and last until May 23, 2023.
Image: ANP
Read more about: Bijlmer disasterMedia and Culture
---