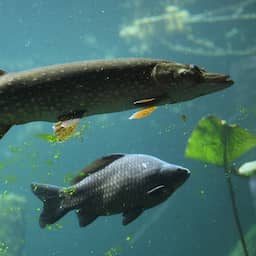 A large amount of pike, carp and especially bream was rescued on Wednesday. The fish threatened to suffocate in a tidal pool near Giesbeek.
It was hard for the roughly 25 fishing enthusiasts gathered in Giesbeek on Wednesday. Dozens of fish were in distress. The pool in which they lived was in danger of drying up due to the persistent drought. With the boots deep in the mud, the fish were scooped out of the little bit of water and taken in tubs to the nearest Valeplas.
Frank Bosman of the Central Netherlands fishing federation was also present and he was full of praise for the action. "We had to act quickly. It was great that so many people were willing to help in a short period of time," he said.
Members of local fishing associations also quickly came to the pool, as did employees of the VKO (VisserijKundig Onderzoek) foundation. In total, approximately 600 kilos of fish were transferred. Some fish were more than 50 centimeters long. There were also 6 catfish among the fish. "During extremely high water, the pool is connected to the IJssel. This is how the catfish ended up in the pool," Bosman explains.
For some walleye, help came too late. They were already dead or beyond saving. Walleye are very vulnerable and if there is little oxygen in the water, they immediately have a very difficult time. In this type of rescue it often happens that this species does not make it, Bosman explains.
Due to the persistent drought, the IJssel has subsided considerably and floodplains and pools are also drying up. It is not the first time this year that fish have to be rescued. In many places, fish have been transferred from tidal pools and rivers to deep, larger pools. This happened in Zwolle and Harreveld, among others.
---