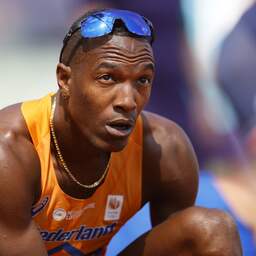 Liemarvin Bonevacia just failed to win a medal in the 400 meters at the European Athletics Championships in Munich on Wednesday. The Dutchman missed out on bronze by eight thousandths.
The 33-year-old Bonevacia was on course for a podium place for a long time, but in the last hundred meters he lost some margin and was doomed to battle for the bronze.
With 45.17, Bonevacia recorded his best time of the season, but Briton Alex Haydock-Wilson crossed the line just a little earlier and finished third. His compatriot Matthew Lloyd Hudson-Smith took gold in 44.53, ahead of Swiss Ricky Petrucciani (silver in 45.03).
Despite his fourth place, Bonevacia can look back on his race with a good feeling. The native of Curaçao already stranded in the semifinals of the 400 meters at last month's World Cup. He had just returned from a hamstring injury.
Last summer, Bonevacia became the first Dutchman to reach the Olympic final of the 400 meters, in which he became last. In his career, the veteran won a medal at a European Championship outdoor: in 2016 he finished with bronze.
Later on Wednesday, there are still Dutch medal chances in the women's 400 meters final, which starts just after 10 p.m. Both Femke Bol and Lieke Klaver have a chance to win gold.
---