Nice titles will be added, but some gems will also be removed from the Xbox Game Pass. Below is the full list.
Ubisoft and Microsoft are increasingly seeing each other. More and more titles from the French developer and publisher are coming to our beloved service. For example, last time we saw top title Ghost Recon: Wildlands and now it's Immortals: Fenyx Rising's turn and that's good, because I wanted to play it again. That will save you money!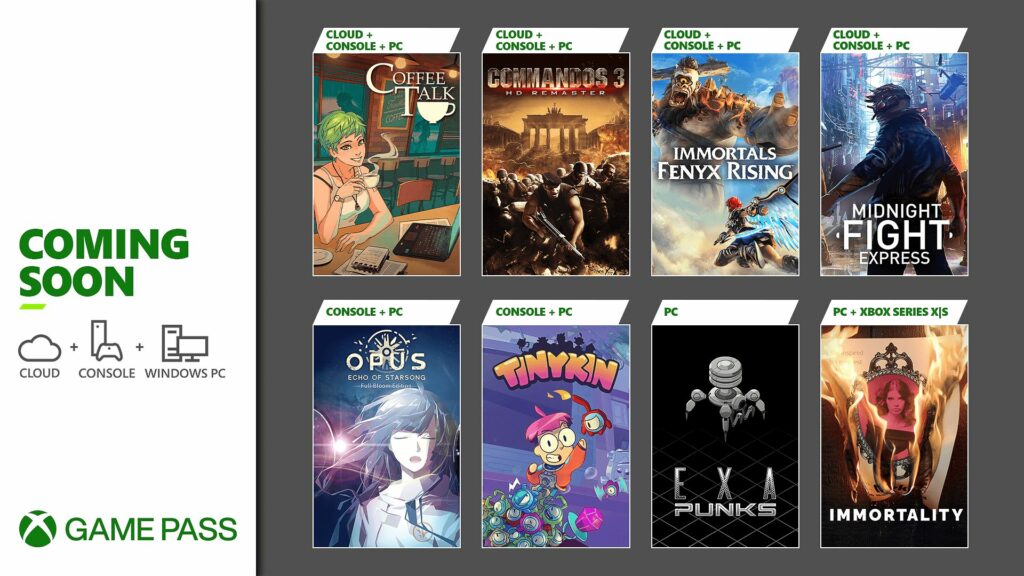 Coffee Talk: Cloud, Console, and PC – Starting Today
Coffee Talk is about hearing other people's problems and helping them through a hot drink with ingredients in your stash. Well, I don't know about you, but I've had enough of other people's problems in my life. So I like to skip this title.
Midnight Fight Express: Cloud, Console, and PC – August 23
This is the game that John Wick actually deserved. Tough isometric action during scenes that wouldn't look out of place in Fast and Furious or the aforementioned John Wick. This is of course worth a try.
Opus: Echo of Starsong – Full Bloom Edition: Console and PC – August 25
This game gets rave reviews and when I look at the images, I understand why. It's another Game Pass title that you just have to download, play, taste and possibly play through or download from your hard drive if it's not your thing. Opus: Echo of Starsong is a narrative-driven adventure set in a sci-fi universe. You play as June and Eda who, as a duo, have to solve puzzles through singing and other means. Sounds good right?
Commandos 3 – HD Remaster: Cloud, Console, and PC and day one with Game Pass – August 30
Commandos 3, 'nuff said.
Immortality: Cloud, PC, Xbox Series X|S – August 30
Immortality is an interactive movie trilogy full of mystery and atmosphere. It looks like some kind of arthouse project where you have to use film to unravel things. To be honest, this doesn't bother me at all, but it might be worth a try for the interactive movie buffs.
Immortals Fenyx Rising: Cloud, Console, and PC – August 30
The game was well received by our editor Rik and is now just coming to Xbox Game Pass! That means you can download it and try it on August 30th. What Rick said about it at the time:
'Ubisoft manages to create an excellent new IP with Immortals: Fenyx Rising. The team behind Assassin's Creed Odyssey have managed to create a beautiful mythological setting in which an interesting story is told. The gameplay is varied and you can make it as challenging as you want. All you have to do is put the game on your wish list for the holidays and then you will have a fantastic Christmas holiday.'
Tinykin: Console and PC and day one with Game Pass – August 30
It's Paper Mario, but for your Xbox with a very familiar drawing style! We will of course try that!
The pearls that go
Unfortunately, the following games will also be released at the end of the month. For example, I'm going to play Spiritfarer soon. Twelve Minutes was also well received by the editors, but What Remains of Edith Finch is really a hit that you should play if you like story games. Only takes 5 hours or so, you'll be done in no time.
Elite Dangerous (cloud and console)Hades (cloud, console, and PC)Myst (cloud, console, and PC)NBA 2K22 (cloud and console)Signs of the Sojourner (cloud, console, and PC)Spiritfarer (cloud, console, and PC)Twelve Minutes (cloud, console, and PC)Two Point Hospital (cloud, console, and PC)What Remains of Edith Finch (cloud, console, and PC)World War Z (cloud, console, and PC)
---