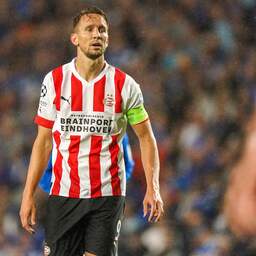 PSV captain Luuk de Jong has competed for goalkeeper Walter Benítez in the play-offs of the Champions League after his team's first match against Rangers FC. The Argentinian made a flashy mistake in the 2-1 of the Scots.
"That didn't look good, but he also knows that," De Jong said on Tuesday about Benítez's blunder at RTL 7. "He saved us so many times and he is a fantastic keeper and a fantastic boy. just keep going. I have every confidence in him."
Benítez made the blunder twenty minutes before time. The keeper let a free kick from Tom Lawrence slip through his fingers, making Rangers 2-1. After that, PSV still managed to draw a draw via a striking header from Armando Obispo.
"Given the game, I think we can be happy with the result," De Jong concluded. "The game went up and down. In the second half we started well by putting pressure on them. But after the 2-1 it was a bit of a search for us."
"We wanted to at least leave with a draw and then finish it in Eindhoven," the attacker continued. "You saw that we wanted that too."
The return between PSV and Rangers is next Wednesday in Eindhoven. The winner of the diptych qualifies for the group stage of the Champions League.
---