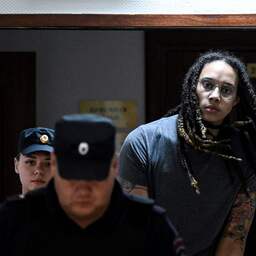 American basketball star Brittney Griner has appealed the nine-year prison sentence she received in early August for drug possession and smuggling. Griner was arrested in Russia for carrying cannabis oil in e-cigarette refills.
Attorney Maria Blagovolina reported Monday that the appeal against Griner's jail sentence has been filed, but declined to provide details. Alexander Boykov, a lawyer who represented Griner in court, said the appeal is primarily based on the "excessive" verdict. In similar cases, according to Boykov, suspects receive an average sentence of about five years.
Griner, 31, had flown to Moscow in February as she played for the Russian team UMMC Yekaterinburg between the American basketball seasons. Griner used the cannabis oil found in her luggage for medicinal reasons, but it is banned in Russia.
The appeal may indicate that Russia and the United States have not reached an agreement on a prisoner swap allegedly involving Griner. Russian officials have said they would consider an exchange, but only after Griner's sentence begins.
The basketball star previously said she hopes all politics surrounding the case will remain "far out of court". "Everyone is talking about politics, but I hope that doesn't play a role in this case." In addition to the prison sentence, the basketball star was also fined one million rubles (about 16,000 euros).
Griner is one of the best basketball players in the world. She has won gold twice in the Olympics and is also a key player in the WNBA for her home ground, Phoenix Mercury.
---