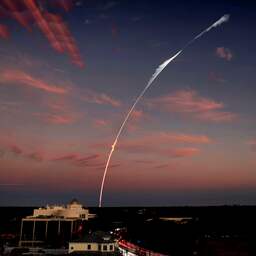 The European Space Agency (ESA) is conducting technical consultations with SpaceX. Elon Musk's rocket company may provide launches in Europe, writes news agency Reuters. ESA used to use Russian Soyuz missiles, but because of the war in Ukraine, the Russians have blocked that.
ESA has been working on its own rocket for launches for some time. But the construction of this Ariane 6 rocket has been delayed. "We are considering several options to fill the gap," ESA chief Josef Aschbacher told Reuters. "One of them is SpaceX."
Another possibility is a missile from Japan. Work is underway in that country on a rocket, whose first flight has yet to take place. "Yet another option would be India," Aschbacher says. "But of all the possibilities, SpaceX's rocket is the most ready-to-use."
However, it is not yet certain that SpaceX will carry out ESA's launches. The equipment of SpaceX and that of ESA must be compatible with each other.
SpaceX is a logical candidate after the collapse of the Russian Soyuz rockets. The company already handles launches for other organizations.
---