Jamie Foxx stars on Netflix from this week in Day Shift (2022). The first viewers to see the film are divided. Although one person finds it an entertaining action film, the other describes it as 'childish'.
Other useful Netflix pages:
The vampire movie thus leads to different reactions: you like it or not. On Twitter, viewers praise the action scenes, but others are a lot more critical: "Yet another disappointment". Anyway, Day Shift manages to attract a lot of viewers and is therefore already in second place in the top 10 on Netflix. The film is already number 1 in the US.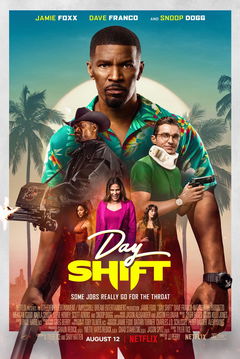 6.2 Watch on Netflix • A hard-working father only wants to ensure a good life for his 8-year-old daughter, but his job as a pool cleaner in the San Fernando Valley is a cover for his real source of income, hunting and killing vampires.
During the day, Jamie Foxx's character works as a pool cleaner, but his real income comes from his job as a vampire hunter, tracking down and killing the sun-shy creatures. He tries to provide a good life for his smart daughter by hunting the monsters.
Image: Still 'Day shift' via Netflix / Parrish Lewis
---