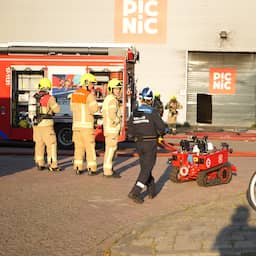 A delivery point of online supermarket Picnic in Rotterdam suffered a lot of smoke and soot damage on Sunday morning due to a fire after a short circuit. Customers in the region have been informed that their groceries will not be delivered on Sunday.
For the next few days, an attempt will be made to deliver the groceries from other locations. "A very puzzle", says Picnic CEO Michiel Muller.
On Sunday morning, an employee noticed that the building was full of smoke. According to Muller, who was informed by the fire brigade, the fire was caused by a short circuit in the cabin of the delivery vehicle.
The sprinkler system quickly extinguished the flames. One person had smoke inhalation and was checked by paramedics. Inside were about ten cars.
The building on the Vlambloem in Rotterdam is a so-called delivery hub. From the Picnic distribution centers the groceries go to such a point, from where they are delivered to the door in the area (in this case Prince Alexander). All those messages had not yet arrived at the Vlambloem, says Muller. The CEO tells NU.nl that it is being examined whether the three other delivery hubs in Rotterdam can help in the coming period.
'Having been on the road for seven years without any problems'
Picnic also had a fire in mid-July. On 11 July, after a major fire, there was a lot of damage in the hub in Almelo. As a result, the supermarket was unable to deliver orders in the region for weeks. Muller: "That was a very large fire, after which everything was gone. That is not the case now."
Although the local fire brigade strongly suspected at the time that the Almelo fire was the result of a problem in the fuse box, Picnic has nevertheless started an investigation into the condition of its own delivery vehicles.
"We've been driving about the same type of vehicle for seven years without any problems. We now have about 2,500 cars on the road and we don't do anything different than we always did. So it can hardly be that. and we are also in consultation with the supplier," says Muller.
---