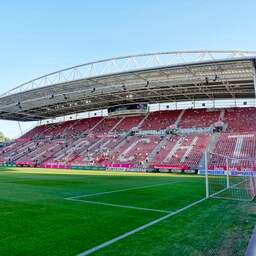 On Sunday FC Utrecht distanced itself in harsh terms from the behavior of some supporters after the home match against SC Cambuur (0-0). During disturbances outside Galgenwaard Stadium, the riot police was attacked and a security guard from the club was injured.
"An absolute disgrace, the behavior of a number of people after the match," says FC Utrecht general manager Thijs van Es in a statement. declaration. "Putting security personnel and riot police in insecurity when they are there to ensure safety for everyone in the stadium is really outrageous."
The Utrecht police reported on Saturday evening that the riot police had to be deployed to prevent a confrontation between supporters. The supporters then pelted the officers with "among other things" stones.
Mayor Sharon Dijksma writes Sunday morning on Twitter that a security guard with injuries had to be taken to the hospital. "This violence must stop! We will do everything we can to track down and punish the perpetrators."
FC Utrecht says that, in view of the seriousness of the violations and since the disturbances took place outside the stadium, the case has been transferred to the Public Prosecution Service (OM). The Eredivisionist will help the Public Prosecution Service by making footage available.
"This first game of the season should be a celebration, it should feel like coming home. It feels like a false start now and then I express myself mildly. We are shocked and will join forces with the Public Prosecution Service to protect these rioters, good can be seen on the images, punish hard," said Van Es.
---