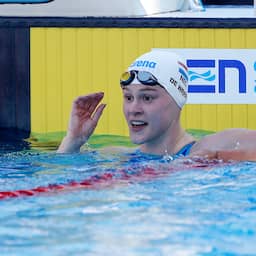 Maaike de Waard seized the bronze medal in the 50 meter backstroke at the European Swimming Championships in Rome on Sunday. The 25-year-old Dutch touched after 27.54 seconds in the final.
Only Analia Pigree from France (27.27) and the Italian Silvia Scalia (27.53) set a faster time than De Waard. Kira Toussaint finished fourth in 27.73.
Earlier this tournament, De Waard already won bronze in the 50-meter butterfly.
Korstanje grabs next to medal at 100 meters butterfly
Nyls Korstanje failed to win a medal in the 100-meter butterfly. The 23-year-old Dutchman finished seventh in the final battle.
Korstanje was the first to return, but was unable to hold on to his leading position. With his time of 51.79 he only kept the Portuguese Diogo Ribeiro (52.28) behind him. The gold went to the Hungarian Kristof Milak (50.33), to Noe Ponti from Switzerland (50.87) and the Pole Jakub Majerski (51.22).
Korstanje finished fourth in the 50 meter butterfly on Friday. He won gold with the mixed relay team in the 4×100 meter medley.
---