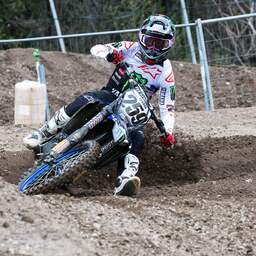 Motocross rider Glenn Coldenhoff won the Finnish Grand Prix in the MXGP on Sunday. The Dutchman came second in the first moto and won the second round by force majeure. Slovenian Tim Gajser secured the world title, which he took over from Jeffrey Herlings.
The 31-year-old Coldenhoff had to tolerate his compatriot Brian Bogers in the first moto in the Finnish Hyvinkää. De Brabander left the Swiss Jeremy Seewer five seconds behind in the second round, while Bogers did not get further than sixth place.
In the general classification of the GP of Finland Coldenhoff finished on 47 points. He kept Seewer, the Frenchman Maxime Renaud and Bogers seven points behind him.
Gajser had to settle for sixth place in Finland, but can no longer be overtaken in the championship with two games to go. The Slovenian is 104 points ahead of number two Seewer. Coldenhoff climbed to third place thanks to his victory and has 45 points less than Seewer.
The 25-year-old Gajser succeeds Herlings as world champion in the MXGP. De Brabander was unable to play this season due to a foot injury.
Next week the drivers in the MXGP will be in action in Saint-Jean-d'Angély, France. At the beginning of September, they close the season in Turkey.
---