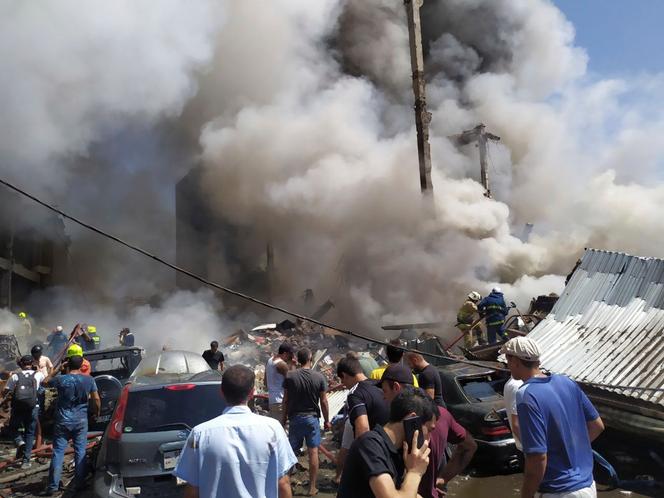 Smoke rises from the Surmalu market, in Yerevan, Sunday August 14, 2022. DANIEL BOLSHAKOV / AP
An explosion of undetermined origin on Sunday August 14 left at least one dead and "twenty injured" in a commercial area of ​​Yerevan, the capital, the Armenian authorities announced. A first assessment that could evolve.
"According to preliminary data, an explosion occurred which started a fire," the Ministry of Emergencies said in a statement.
The explosion occurred in the early afternoon at the Surmalu wholesale market.
Videos and photos circulating on social media show a thick column of black smoke rising into the sky. On a video, we can hear several explosions in succession, like the crackling of fireworks.
According to the Ministry of Emergency Situations, ten fire trucks are on site and ten others are on the way to lend a hand.
A small Caucasian country of about three million people, Armenia has been going through a difficult period since a 2020 war against neighboring Azerbaijan that ended in heavy defeat and a major political crisis.
Read also Article reserved for our subscribers Nagorno-Karabakh: Vladimir Putin seals the defeat of Yerevan after the "total ceasefire" agreement between Armenia and Azerbaijan
---