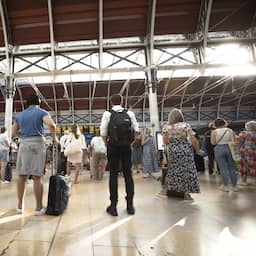 A major 24-hour strike by train drivers is underway in the United Kingdom. Earlier on Saturday, about 6,500 drivers laid down their work. As a result, nine railway companies hardly run at all. The above-ground network in London has also been affected by the strike.
The strike is part of a long-running conflict between unions, carriers and the government over wages, rosters and possible redundancies. The first actions started in June and will continue indefinitely. Saturday's action is one of the Aslef union. Similar strikes by the RMT and TSSA unions are planned for next week.
Five railway companies, including Avanti West Coast and London Northwestern Railway, will not operate at all on Saturday. The other affected carriers only allow trains to run sparsely. It is therefore extra busy on the trains that do run according to the timetable.
The strike will cause a lot of inconvenience for train passengers on Saturday. Event visitors can also wet their chests. For example, there are Premier League football matches in cities such as London, Manchester, Birmingham and Brighton, for which many fans are assigned to the train.
On Saturday evening, the band Coldplay will also give a concert in London's Wembley stadium, where around 90,000 people are expected. Normally, many visitors come to the stadium by train.
Employees of the NS will soon stop working en masse now that no collective labor agreement has been reached with the trade unions. These include relay strikes in certain regions to the nationwide shutdown of the track.
---