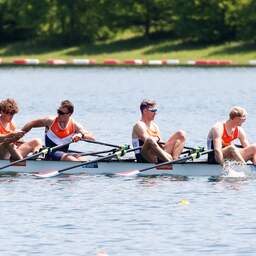 The Netherlands had a successful day at the European Rowing Championships in Munich on Saturday. A total of four times a silver medal was taken and there was once a bronze medal.
The men's eight (Leonard van Lierop, Michiel Mantel, Mick Makker, Guus Mollee, Jacob van de Kerkhof, Guillaume Krommenhoek, Niki van Sprang, Abe Wiersma and mate Dieuwke Fetter) had to leave behind only Great Britain after a rough start, which 4, 5 seconds faster. Italy took bronze.
Tessa Dullemans, Ilse Kolkman, Bente Paulis, Nika Vos also had to acknowledge their superiority in Great Britain in the double four, which prevailed in many parts and was more than three seconds faster. The bronze went to Ukraine.
In the four-without, Rik Rienks, Sander de Graaf, Ruben Knab and Ralf Rienks also had to leave the gold to the British (+2.26). Romania seized the bronze there. The Rienks brothers are sons of two-time Olympic champion Nico Rienks.
Laila Youssifou and Roos de Jong also rowed to silver in the double sculls, behind the unapproachable Olympic champion Romania. Youssifou and De Jong conceded just under seven seconds. Italy finished third.
Bronze for Clevering and Master
The first Dutch medal of the day was a bronze, which was won by Ymkje Clevering and Veronique Meester. They started strong in the two-less, but saw Romania (gold) and Great Britain (silver) pass along the way. The difference between the Romanian and the British women was just under two seconds. The Netherlands conceded more than five seconds.
Last year, Clevering and Meester were part of the four-without at the Tokyo Olympics, which was good for silver. That boat has won the European title for the past three years.
This time the four-without missed the medals. Marloes Oldenburg, Benthe Boonstra, Hermijntje Drenth, Tinka Offereins were still on course in the beginning, but fell far back and finished fifth. Gold medalist Great Britain was more than eight seconds faster.
Also on Sunday, there is still a battle for the medals in Munich. The world championships are in the Czech Republic in a month.
---