Nicholas Galitzine, one of the stars of Purple Hearts (2022), in an interview with People magazine, is candid about his role as Luke. The actor also hints at a possible sequel to the mega-popular Netflix film. Is there more in Purple Hearts?
Waiting for the right story
Galitzine indicates that he jokes with his fellow actors about how they can possibly continue the story. Whether there really will be a sequel depends on Netflix. Given the high viewing figures, a second film could just follow.
There are many different ways it could go, and we'll wait and see if it's the right story. But it's cool to see people asking for a second one.

Nicholas Galitzine
Cassie and Luke
The romantic Netflix film follows Cassie Salazar and Luke Morrow. The astute Cassie works nights in a California bar making ends meet as she pursues her dream of becoming a singer/songwriter. Luke is a Marine in training, about to leave for his service, and who finds solace in the unwavering discipline of the service. But a chance meeting at Cassie's bar changes the course of their lives. Cassie drowns in medical bills after being diagnosed with diabetes.
Purple Hearts now on Netflix
Purple Hearts is now available on Netflix. For a complete overview of all new movies and series that will soon be available on the streaming service, you can visit our Coming Soon page on Netflix. Or check out all the new offerings on New on Netflix.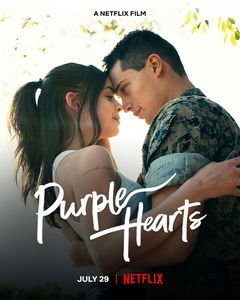 6.9 Watch on Netflix • Despite their differences and against all odds, an aspiring singer-songwriter (Sofia Carson) and a Marine (Nicholas Galitzine) fall hopelessly in love.
Image: Still 'Purple Hearts' via Netflix
---