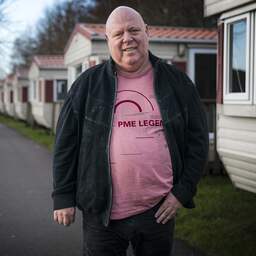 Peter Gillis has to appear in court on Friday on suspicion of assault. Although he initially denied, he and his girlfriend Nicol Kremer have now confessed that "a private incident led to the involvement of the police". How about that?
On July 22, RTL Boulevard and Shownieuws announced that Gillis was arrested in May for assault. Anonymous sources reported to RTL Boulevard that the Massa's Cashier star spent a night in jail because he allegedly assaulted his girlfriend Nicol Kremers.
A spokesperson for the Public Prosecution Service confirmed to NU.nl that a sixty-year-old man on May 29 for that reason was arrested in Ommel, but did not want to say whether it concerns the reality star. A woman of unknown age is the victim.
Gillis and his girlfriend mentioned the news Instagram nonsense. "A lot of media attention again today for the stories about us," the reality stars wrote. "There's absolutely nothing wrong with it." Ton van den Biezenbos, Gillis' lawyer, did not want to comment on the rumors at all to NU.nl.
On August 2, Gillis and Kremer admitted that something had happened in May and that Gillis was arrested for that reason. The couple "regrets that a private incident has led to the involvement of the police", their lawyer said at the time.
It was previously reported that the scheduled hearing on August 12 will not take place. The Public Prosecution Service informed Shownieuws last week that a hearing in the court of Den Bosch is still planned on that day. Gillis will then learn what he is suspected of. In addition, another session is scheduled, at which Gillis' girlfriend Kremers will be heard. This is done at the request of Gillis and his lawyer.
Talpa resents Gillis having lied against the company. "Peter and Nicol have also withheld their private situation from Talpa. That is not acceptable. We also blamed them both for this. They have apologized for this," a spokesperson told Shownieuws.
The start of a new series of Massa is Kassa on SBS6 is up tuesday 6 september planned. Talpa and producer Concept Street do not want to answer NU.nl's question whether the broadcasts will actually continue.
---